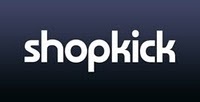 We have looked at many potential partners, and believe shopkick is the most interesting model for us to take a bold step into the mobile-meets-retail world
Palo Alto, CA (PRWEB) April 26, 2010
In anticipation of its shopkick retail mobile application debut this summer, the Palo Alto startup of the same name announces today it has added Best Buy and Macy's as launch partners. Using cell phones to turn physical offline stores into "interactive worlds" - the shopkick app will follow on the heels of the company's first app, CauseWorld, which quickly became the market's fastest-growing mobile location-based retail application.
The app's technology promises to transform brick-and-mortar stores into worlds where consumers receive personalized offers, product information and peer advice, as well as guidance on which stores have the best offers. Thus, the shopkick app will dramatically improve the shopping experience of consumers, and enable retailers to use mobile phones to drive customers, increase brand loyalty and boost their bottom line.
As part of a recent trial with shopkick's CauseWorld app, which also engages customers in retail stores through cell phones, Best Buy offered a special 10% discount to CauseWorld users redeemable at its stores nationwide. As a result, shopkick immediately saw a high single digit response rate. And Macy's became a partner due to shopkick's new performance-based business model and its potential for consumers.
"We have looked at many potential partners, and believe shopkick is the most interesting model for us to take a bold step into the mobile-meets-retail world," said Martine Reardon, EVP Marketing, Macy's.
"We created shopkick to reduce lost foot traffic and untargeted advertising in the physical retail world - and dramatically improve the consumer shopping experience," said shopkick co-founder and CEO Cyriac Roeding. "With Best Buy and Macy's on board as partners, we have two of the world's leading retailers as launch partners. We couldn't be more excited than to work with them. Our new app shopkick is going to change the way retailers engage with their customers. We are also inviting other retailers to join us for this launch."
shopkick's first app CauseWorld, currently in the market, is a free, location-based mobile application for iPhone, iPod touch and Android phones, which allows users to collect "karma points" while shopping, and turn them into real cash donations to charitable causes. Consumers are also using CauseWorld to scan barcodes of products for extra points.
The response to shopkick's CauseWorld has been overwhelming. 2.2 million pounds of carbon have been helped to offset by consumers through allocating the donations of Citi, Kraft and Procter & Gamble, over 200,000 meals have been helped to provide to families in America, and more than 50,000 trees, 15 million liters of water for children in developing countries, and 23,000 books for children. In addition, more than $100,000 have been donated to help earthquake victims in Haiti through the American Red Cross.
About shopkick
shopkick is a new Palo Alto-based startup funded by Kleiner Perkins's iFund and Reid Hoffman, founder and Chairman of LinkedIn, and investor in Facebook. shopkick, Inc. was founded based on the belief that the intersection of mobile and physical retail is the next big opportunity in mobile to create consumer value. The Silicon Valley-based company's goal is to drastically improve the shopping experience of consumers by utilizing cell phones' location awareness, unprecedented personalization capabilities, and social/viral features. shopkick launched its mobile application CauseWorld in the United States in December 2009, in partnership with Citi, Kraft Foods and Procter & Gamble. The shopkick team consists of mobile and web experts who previously built the mobile division of CBS in Los Angeles, and successful mobile and online ventures in Europe and the U.S. (12snap, GoldPocket Wireless, Loopt, CommerceFlow, Rojo), and from Google, TellMe/Microsoft, and Procter & Gamble.
###