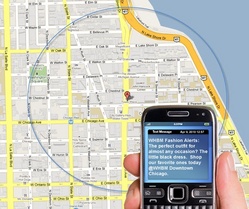 San Francisco, CA (Vocus) October 28, 2010
White House Black Market uses FashionAlerts in 26 stores to provide customers with discounts, sales and style tips
Today, location-based services leader Placecast announces a partnership with women's specialty retailer White House Black Market (WHBM) that will allow the brand to communicate with its consumers via a new opt-in retail marketing technology called FashionAlerts. Through FashionAlerts, shoppers receive text messages from WHBM when they pass through specific geo-fenced areas. Unlike mobile apps, Placecast's mobile marketing technology works on any cell phone, not just smartphones.
FashionAlerts are now running in 26 of the retailer's locations in the Dallas/Ft. Worth and Chicago areas. WHBM is recruiting participants through email, Facebook, and Twitter. Interested customers can join through a double opt-in process to receive the alerts. Once FashionAlerts is activated, the service will automatically alert a consumer if she has entered a WHBM geo-fenced area.
With FashionAlerts, WHBM plans to promote upcoming in-store sales, online promotions, new product releases, sweepstakes, and style tips for its consumers and is looking to use location to increase relevancy and drive in-store traffic.
Placecast's ShopAlerts program, after which FashionAlerts is modeled, has received the 2010 RACie award, the top prize for innovation from National Retail Federation. ShopAlerts has been put to the test for over a year; beta programs running last fall showed positive user receptivity and retail engagement as well as incredibly low opt-out rates. Other brands that have launched ShopAlerts programs since have seen similar positive results.
Owned by Chico's FAS, Inc., WHBM offers chic, sophisticated apparel and accessories. Their consumer focus is women over 25 with moderate to high household incomes.
This demographic of women over 25 is proving to be increasingly receptive to mobile marketing, according to Harris Interactive surveys commissioned by Placecast. In the most recent Harris survey of more than 2000 consumers, data showed that women, especially between the ages of 35-54, are rapidly embracing mobile and using it to simplify their lives. 28% of women from 35-54 showed interest in mobile marketing messages, compared to 22% of men of the same age. Though many in the mobile industry are tuned into the idea that men are more interested in gadgets, this data shows that women are as interested and, in some cases, more interested in using their phones for more than just talking.
Placecast CEO Alistair Goodman is enthusiastic about the partnership between Placecast and WHBM: "White House Black Market is already a highly esteemed name in specialty retail, and we believe that offering FashionAlerts will provide even more value to their existing customer base. They are showing that they are at the leading edge of the mobile marketing revolution by engaging in location-based mobile marketing."
ShopAlerts video:
http://www.youtube.com/watch?v=4PRCJHNMW9A&feature=player_embedded
For more about Placecast's ShopAlerts: http://www.placecast.net
About White House Black Market
In 1985, The White House, a tiny women's boutique exclusively offering white and ivory apparel and accessories opened its first retail store in Baltimore, Maryland. Continuing to leverage the elegance and simplicity of a monochromatic theme, Black Market opened its first store in 1995. With the success of both concepts, the two were combined in 1997, when the current White House Black Market brand was launched. Acquired by Chico's FAS, Inc. in 2003, WHBM offers chic, sophisticated apparel and accessories in timeless colors of black and white and occasionally accented with seasonal shades, focusing on women 25 years of age and older, with moderate to high household incomes.
White House Black Market currently operates 344 frontline boutiques and 20 outlets across the U.S. as well as the District of Columbia, Puerto Rico and the U.S. Virgin Islands. WH|BM has direct-to-consumer sales through its popular catalog and Web site, http://www.whitehouseblackmarket.com.
About Placecast
Placecast is the first location-based platform specifically designed to use digital marketing on mobile to drive consumers into physical environments.
Placecast's ShopAlerts service has transformed the location-based industry, taking home the top prize for innovation given by the National Retail Federation known as the 2010 RACie award, and demonstrating that mainstream brands like The North Face, SONIC, and American Eagle Outfitters are embracing location-based mobile marketing. Placecast recently launched MatchAPI, a tool that enables providers and developers to refer to a location in any number of ways and validate that those references resolve to one true location on the planet. The company recently raised $8 million in Series B funding from Quatrex Capital and existing investors ONSET Ventures and Voyager Capital.
Media Contact: Rachael Himsel, Placecast PR rachael(at)vscconsulting(dot)com
Phone: 415.677.9125 x 257
# # #