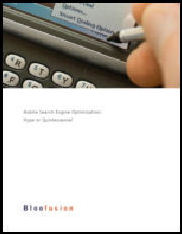 And our white paper can help pave the way.
Aptos, CA (PRWEB) July 10, 2007
The mobile Web is becoming more and more pervasive. Mobile Web usage in the US has surged forward at a three-fold increase over last year, according to Bango, the mobile billing company. That elevates the U.S. to second place behind the U.K. on the leading edge of mobile Internet usage.
To respond this need, Bloofusion, an online marketing agency which focuses on search engine optimization is expanding its reach into mobile search and has authored a free white paper to offer guidance in this new space.
Never has there been so much activity in the mobile web: In May 2007 the threshold of half a million .mobi domain registrations was surpassed, according to the dotMobi consortium.
"Companies will need to react quickly and confront various issues as mobile surfers are struggling to find products and services online," noted Andreas Mueller, Chief Strategist, Bloofusion. "And our white paper can help pave the way."
Online businesses will need to have answers for some of these questions:

How much of the mobile web is hype?
Does every corporation need a mobile site?
How do you get more visible on the mobile web?
Are there logical first steps to take?
Bloofusion's exclusive white paper "Mobile Search Engine Optimization: Hype or Quintessence?," addresses these questions and more:
1. Introduction -- the Market Space
2. The Mobile Web
2.1 Accessing a Brave New World
2.2 Mobile Content -- What do Users Want?
3. Mobile Web Sites -- a Peek behind the Curtain
4. Mobile Search Engines -- the Common Denominator
4.1 A Hybrid Solution
4.2 Mobile is Different
5. Company Strategies to Exploit the Mobile Web
6. Online Resources to Get You Started
The white paper can be downloaded free of charge from the Bloofusion web site:
http://www.bloofusion.com/resources/white-papers/mseo/index.shtml
About Bloofusion
Bloofusion (http://www.bloofusion.com) is an online marketing agency that enables companies to take advantage of search engines, turning web sites into effective sales and marketing channels. By focusing on search engine marketing as a long-term strategy we will help your company attract potential clients.
Our teams in the US (Silicon Valley) and Europe (Germany) work for clients of all sizes, from innovative startups to public companies. Our customers, large or small, have one thing in common: They are able to harness the full business potential of the Internet, giving them a competitive edge and thus boosting their revenues.
###