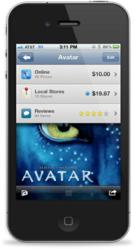 Muse said the growth in users has been accompanied by a disproportionately high increase in produce pageviews.
Dallas, TX (PRWEB) May 09, 2011
ShopSavvy, the leading mobile shopping assistant, added 1.9 million downloads and 1.3 million unique users in April, bringing total downloads to 17.9 million and unique users to 9.3 million. The unique user total represents 13 percent of the approximately 70 million smartphone owners in the United States. ShopSavvy began releasing monthly download and user totals last month.
Downloads/installs are defined as the total number of times ShopSavvy has been downloaded from the app markets of Apple, Android, Amazon and Windows Phone 7, as well as from independent markets or directly from the APK application file. Unique users are defined as the number of people who have used the app and currently have it on their phones.
Alexander Muse, CEO and co-founder of ShopSavvy, said that the growth in users has been accompanied by a disproportionately high increase in product pageviews – the pages displayed whenever a user scans a product with ShopSavvy.
"Each time a product is scanned the user is presented a product page where we can insert an AdOn – a 'hyper-relevant' deal, promotion, warranty offer or other UPC/GPS-targeted advertisement," Muse said. "Our users are generating millions of these each month – and we are pleased to report that product pageviews in the first quarter of 2011 were more than double those of the last quarter of 2010."
ShopSavvy also reported that its database includes more than 26,000 retailers and more than 1 million retail locations. Retailers interested in adding their products to the ShopSavvy database can learn how at http://bit.ly/shopsavvy-retailers.
About ShopSavvy
ShopSavvy is the leading mobile shopping assistant, with 17.9 million downloads and 9.3 million active users. ShopSavvy empowers smartphone users to quickly and seamlessly locate, research and buy products at the point of sale. When users scan a barcode or input a product name, they discover where the item is sold locally and online, where it's in stock and at what price. ShopSavvy aggregates product data, deals, ratings and reviews from retailers, partners and its own users to provide the most comprehensive source of information and advice for mobile shoppers anywhere. For advertisers, ShopSavvy delivers "hyper-relevant" deals, promotions, warranty offers, and other UPC/GPS-targeted content to consumers. For more information, visit http://shopsavvy.mobi.
###