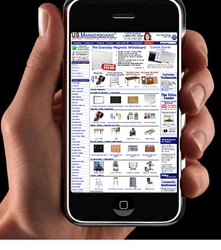 Holbrook, MA (Vocus) July 20, 2010
FutureSource Consulting recently reported that by the year 2013, more than one billion people will own a smartphone, and with that will be the ease to search and buy online. The need for more online based mobile sites and applications will continue to rise as the world shifts it focus to the all-in-one mobile device.
US Markerboard has just rolled out their new mobile store that will allow any smartphone owner the ability to order any of their 400,000 products through the power of the mobile web. Whiteboards, display boards, school equipment, along with their line of globes, science kits and more, can now be purchased right in the palm of your hand.
Since the inception of the company, US Markerboard has always been known to be ahead of the curve when it comes to its products and services. CEO Scott Newman has always seen value in technology as he feels it plays a huge role in how companies do business in these modern times. "Since we rolled our our first site, over 10 years ago, USMarkerboard.com has obviously seen a lot of changes, but I think we had the advantage in getting there first, which is a huge reason why we're one of the online leaders in our category of products. I think having this new mobile site will just be another great option for our customers and I hope they feel the same way."
"US Markerboard Mobile" is a fully interactive online store that allows you to browse all the same products the regular website offers only in a smartphone friendly format. The mobile address is still USMarkerboard.com but once the site is able to recognize that the visitor is coming in through a mobile phone it adjusts itself accordingly in order to give you the easiest browsing experience. Phones like the Apple iPhone, The Andriod and Blackberry Storm are able to access and view both the mobile version of the site and the desktop version in which both browser types are fully functional.
Google has recently thrown their hat into the ring by introducing its new innovative project called "App Inventor" which essentially puts the ability to create apps for its Droid mobile operating system in the hands of everyday people, as opposed to the engineers and developers who previously monopolized the mobile market. This will undoubtedly change the face of the consumer market for both companies and their customers and revolutionize the way people will be able to shop.
Be sure to check out US Markerboard Mobile on your smartphone and be sure to send your comments and feedback to the marketing team by emailing marketing(at)USMarkerboard(dot)com
###