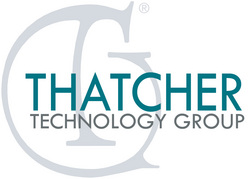 ROAM's solution greatly enhances a direct sales company's reach and makes it more convenient for distributors to do their business in real time.
Naperville, IL (PRWEB) October 23, 2009
Thatcher Technology Group announced today that it entered into agreement with ROAM Data to integrate and jointly market their innovative solutions to Direct Sales enterprises in the U.S. Thatcher Technology Group and ROAM Data have partnered to deliver the Direct Sales industry's first integrated Sales Performance Management Software that can be accessed by virtually any mobile phone on any carrier network to help Direct Sellers easily enter orders and sell more, anytime, anywhere, through Thatcher's Prowess® Software Solutions Suite.
"ROAM's secure mobile applications are a perfect fit for our Prowess Software and ideal for the Direct Sales industry, allowing direct sellers to check inventory, place orders, and enroll new recruits right on their mobile phone, wherever they are, be it at a party or at soccer practice," said Dave Siembieda, President of Thatcher Technology Group. "ROAM's solution greatly enhances a direct sales company's reach and makes it more convenient for distributors to do their business in real time."
Under the agreement, ROAM and Thatcher will partner to integrate ROAM's mobile commerce services into Thatcher's party plan and multi-level marketing software, Prowess. Thatcher provides delivered or hosted solutions, while ROAM provides full mobile commerce services to enable direct sellers to load applications on their own phone and transact or check status anytime, anywhere. The mobile applications are very easy to use, highly secure, and offer truly state-of-the-art convenience for sales professionals that the entire Direct Sales industry will embrace as they did for web applications.
"We are very excited to be working with Thatcher and their team," said Will Graylin, CEO and founder of ROAM Data. "We look forward to extending their innovative online sales management tools to mobile devices of all sorts and helping direct sellers sell more, faster, and easier."
About ROAM Data
ROAM Data is a full service commerce gateway with the most scalable mobile capabilities on the market, leveraging its innovative carrier and device agnostic platform to dynamically deliver valuable real-time information and transactions to mobile professionals on their own mobile phones, as a service. Payment Processors, Direct Sales Companies, SaaS (Software-as-a-Service) Providers and Systems Integrators look to ROAM to deliver user friendly real-time mobile data transactions and secure payments. ROAM's platform is fully PCI compliant, and meets the highest security standards in the industry. ROAM provides fully hosted services with 24X7 support to reduce complexity and total cost of ownership for IT departments, improving time-to-market and quality of their mobile application services. http://www.roamdata.com.
About Thatcher Technology
Thatcher Technology Group has over 10 years experience creating and implementing software solutions that fuel growth in direct sales organizations. Prowess® Software Solutions Suite is a powerful, scalable genealogy, compensation and incentive management system for direct and multi-level sales organizations. Prowess helps turn high-volume, complex sales activities into seamless, cost-effective processes. http://www.thatchertech.com/
Contact: Beth Peterson at (708) 466-3519 or beth(at)petersonmktg(dot)com
###