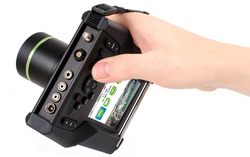 Stavanger, Norway (PRWEB) March 2, 2009
Pixavi today announced its next generation video communication product range, the Xcaster 5000 mobile telepresence product series. The product is designed to considerably decrease travel costs and increase organizational efficiency within companies and organizations.
Pixavi has through the last four years built its new technology platform through a complex technology project co funded by Pixavi and several key customers. The technology platform incorporates both hardware and software innovation and will be the foundation for many innovative products in the years to come.
The product incorporates a five megapixel CMOS sensor, High end optics and advanced DSP hardware and software technology in order to achieve best in class quality and performance.
Pixavi CEO, Christian Rokseth explains: "High Definition 720p video quality has become the dominant quality level within today's Video conferencing market. Until now, wireless HD video conferencing has been technically impossible due to the extreme encoding performance requirements and wireless bandwidth constraints. With the inclusion of new DSP technology from Texas Instruments and high performance networking technology, confirming to the new 802.11n (draft 2.0) standard, Pixavi has made HD video conferencing and telepresence available in a small handheld device."
Based on Embedded Linux operating system and a user friendly interface, the Xcaster supports multiple modes of operation, all designed to be performed over an existing Internet connection and without the need for extra hardware or software:
-- Video Conferencing mode (SIP, H.323 and Telepresence)
-- Collaboration mode (advanced laser collaboration)
-- Streaming mode (Stream HD video to Windows media player and Quicklime)
-- Recording mode (record HD video and 5 megapixel stills to server)
The Xcaster Mobile Telepresence Camera has the capability of dialing to any Video Conferencing system, Telepresence system or a standard desktop or laptop computer and instantly start communicating using HD video and CD quality audio. Along with H.264 video and AAC audio communication It supports both H.323 and SIP, which are the dominant IP telecommunication standards in today's market. It has a built in speaker and microphone and It is also backwards compatible with legacy H.263 systems and g.711, G.722, G.722.1, and G.728 audio codecs.
Pricing & Availability:
The Xcaster ST5000 will be available in May 2009, with a price tag of 7950 USD. In addition, Pixavi is offering 3 levels of service, depending on the customer needs, including hosted and managed services like Go Live 2.0, SIP services and hosted video conferencing software solutions.
Technical details:
For more details, please visit the Xcaster section of our website.
Pixavi will shortly launch an Explosion proof / Intrinsically safe version, certified for zone 1 (IECex and ATEX) as well as wearable versions of the technology.
About Pixavi:
Pixavi is a privately owned company offering innovative and industrial grade wireless communication products, including wearable and mobile high definition telepresence video products, wireless network products (802.11n, 802.11g WiFi and WIMAX), WLAN antenna products, location tracking and wireless video surveillance technology.
Pixavi introduced its first video collaboration system back in 1999 (ST1000)
The company's award-winning solutions also come in intrinsically safe, EX approved and explosion proof versions according to ATEX and IECex and are used by the world's leading enterprises in a multitude of industries. With a broad suite of open, standards-based products, Pixavi has a high focus on technology innovation. Pixavi is currently recruiting and are also looking for potential investors in order to accelerate growth.
Contact Pixavi for more information;:
Thomas Zaubi
Sales Director
+47 90943156
sales(a)pixavi (dot) com
http://www.pixavi.com
Legal Notice:
This news release contains forward-looking statements that involve risks, uncertainties and assumptions. If such risks or uncertainties materialize or such assumptions prove incorrect, the results of Pixavi and its consolidated subsidiaries could differ materially from those expressed or implied by such forward-looking statements and assumptions.
###