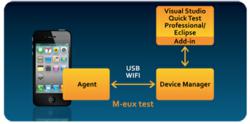 The high level architecture of this application is robust and flexible, and seamlessly integrates with industry standard tools
Nashville, TN (PRWEB) May 16, 2012
Northway Solutions Group, in partnership with Jamo Solutions, is proud to announce 360° Automated Mobile Testing, an innovative solution for mobile device applications. Northway's best of breed methodology, combined with Jamo's M-eux testing solution allows clients to reduce the test cycle duration, increase the scope of testing, and ensure better software quality at less cost than typical manual testing.
"Most solutions fall short of the ROI promised because they are based on device emulators or use bitmap recognition for recording workflows. This makes scripting cumbersome; doesn't allow for reusability and portability of scripts; and results in a considerable amount of rework." Prashant Satoskar, Co-Founder & VP of Services
Jamo's M-eux Test is the only solution that is designed from the ground up to address all of these challenges. The M-eux Test solution provides true object recognition for scripting, and allows for reusability, maintainability and portability of scripts across OS versions and devices. It is the only solution that does not require "jail breaking" or rooting of the devices being tested. M-eux Test integrates with industry standard development and automation IDE's enabling the developers and automation engineers to leverage their existing scripting knowledge and easily extend it to the mobile platform.
"Excellence is what we're all about at Northway Solutions. The 360° Automated Mobile Testing exemplifies our commitment to meeting the ever increasing needs in the Software Quality Management marketplace. The high level architecture of this application is robust and flexible, and seamlessly integrates with industry standard tools like HP's Unified Functional Test (QuickTest Pro), Microsoft Visual Studio, and Eclipse to extend all native automation tools' functionality to mobile platforms." Scott Moore, Founder & CEO
For more information on the overall benefits, technical requirements and demonstration videos about 360° Automated Mobile Testing please visit http://NorthwaySolutions.com.
About Northway Solutions Group
Northway Solutions Group is a technology solutions provider that provides consulting services around HP's IT Performance Suite of products. As an HP Elite/Specialist software partner, we specialize in the sales, implementation, education and support of HP's Application Lifecycle Management (ALM) platform, which includes Quality Center, Unified Functional Testing, Performance Center, LoadRunner, and Service Virtualization. Northway employs only the most qualified certified consultants with real-world experience and who can provide long-term solutions to the toughest business challenges