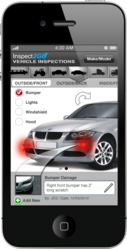 Los Angeles, CA (PRWEB) June 07, 2011
Inspect2Go (http://www.inspect2go.com), a mobile application development company, is releasing a powerful technology for vehicle inspection on mobile devices. The company tailors its technology to produce custom mobile applications for each new client. Apple (iPhone/iPad), Android (phone/tablet) and Windows 7 versions are available. The application can be adapted to perform safety, damage and other inspections on any type of vehicle from rental cars to commercial planes to naval ships. See http://www.inspect2go.com/inspection/vehicle
The app has several unique features including:
(1) Stylus - On-screen stylus and finger-touch capabilities allow the user to mark, check, and sign reports and forms
(2) Photos - Digital image capture enables the user to document observations
(3) Reporting - Reports are generated, saved and transmitted to database/server
(4) Custom – Apps can be customized to your unique inspection forms, or with your company's logo and graphics
Mobile apps are pivotal instruments in business today. Inspect2Go's mobile vehicle inspection application will change the way companies conduct inspections. For example, let's say you own and operate a dozen car rental facilities. When cars are returned they must go through a routine inspection. This usually means an employee must go out to a returned car, clipboard in hand, checking boxes, flipping through pages, referring to diagrams, penciling in conditions on some paper form, then having to sort and file all that information back at the office. In addition, if photos are taken, staff must download images and provide cross-references to the vehicle, etc. Inspect2Go's vehicle inspection app does all this work, and more, in the field, and the results are more organized, thorough, and accurate than when doing it by hand, with pen and paper.
This mobile application is aimed at businesses conducting vehicle and safety inspections. This could include car rental companies, insurance companies, automotive repair services, accident investigators, equipment rental companies or military organizations. The vehicles could include new, used, or rental vehicles such as automobiles, trucks, aircraft, boats, trains, military, construction, and heavy equipment. The app focuses not only on damage to used/rented vehicles, but also inspection requirements and standards identified by agencies/organizations including DOT (Department of Transportation), DMV and FMCSA (Federal Motor Carrier and Safety Administration).
About Inspect2Go
Inspect2Go is a Southern California based mobile application developer. Their programmers work with all platforms, primarily focused on Apple iPhone/iPad, Android, Blackberry, and Windows 7. The company offers turnkey services, integrating its mobile apps with clients' back office systems and databases residing on servers.
Learn more at http://www.inspect2go.com
###