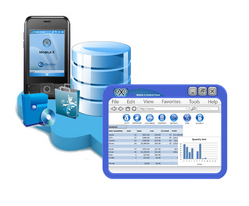 MXP will change the perception of retail POS
Portland, OR (PRWEB) January 18, 2011
The new Mobile X Platform works from the cloud. New West Technologies has developed the first mobile POS and inventory solution for the next generation. A mobile sales and inventory system operated from the cloud, designed to scale and control handheld POS and Inventory units on demand.
The Mobile X web portal acts as a control panel for the mobile registers. This rapid sync capacity to multiple handhelds gives dynamic control over the configuration for pricing and inventory updates as you sell in real-time. The Mobile units perform transactions, tender sales, updates inventory, and customers. Items, customers and configuration are all maintained and reported against in real-time from the web.
Mobile X updates and maintains the essential variables concerning point of sale and inventory management reporting in real-time, web based. This solution gives you and your staff control over multiple areas of your business with the freedom and versatility of a mobile device.
About New West:
Founded in 1992 in Portland, Oregon, New West Technologies is a leading integrator of Mobile Retail POS software solutions and Microsoft Dynamics Retail products. As a full-service technology provider with extensive experience in small business computer networking and retail software development and installation, we deliver easy-to-use, practical solutions that dramatically improve your profitability and workflow management. http://www.newestech.com
###