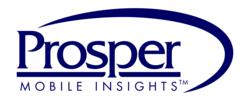 Smartphone = Vacation Staple
Worthington, OH (PRWEB) April 10, 2012
The overwhelming majority of Mobile Users who go on vacation (78.8%) say they take a smartphone or tablet with them and use it all the time, according to a recent survey conducted by Prosper Mobile Insights™. 18.9% take their device and rarely use it, while only 2.2% say they leave the technology at home.
Vacationers are most apt to use a smartphone or tablet for practical purposes, such as getting directions or finding local restaurants and entertainment. Most also check their personal email, keep in touch with people back home, post to social media and entertain themselves using a mobile device while on vacation:
"Do you use your smartphone or tablet for any of the following while traveling for vacation?"
(Mobile Users Who Go On Vacation)
Checking personal email: 84.6%
GPS/Maps: 67.0%
Keeping in touch with those back home: 67.0%
Searching for local restaurants or attractions: 61.5%
Posting photos/status updates to social media: 57.7%
Entertainment while on vacation (at the beach, in a hotel, etc): 54.8%
Entertainment while traveling (on a plane, in the car, etc.): 53.5%
Source: Prosper Mobile Insights™ Mobile Survey, March-12
Checking work email (29.2%) is among the least popular mobile vacation activities, along with making reservations for restaurants/attractions (26.9%) and checking into an airport ahead of time (22.8%).
For the full, complimentary report, click here.
Further, most Mobile Users say a smartphone is a "must-have" vacation device. For consumers, it is just as essential as a digital camera when traveling:
"Which devices do you think are 'must-haves' when on vacation?" (Check all that apply)
(Mobile Users Who Go On Vacation)
Smartphone: 78.5%
Digital camera: 72.8%
GPS: 53.8%
Laptop/Netbook: 34.6%
Tablet: 30.8%
MP3 Player: 29.8%
Basic/feature phone: 26.6%
eReader: 19.9%
Hand-held gaming system: 12.8%
Portable DVD player: 11.2%
Source: Prosper Mobile Insights™ Mobile Survey, March-12
3 in 10 consider a tablet a "must-have" device to take on vacation, making it just as likely to be packed in a suitcase as a laptop or MP3 Player. Fewer (19.9%) say an eReader is a vacation staple.
For more insights on how consumers are using smartphones and tablets, download the Prosper Mobile Android™ Tablet App or install the Apple Web App. You can also access the online Prosper Mobile InsightCenter™, recently updated with new March mobile survey data.
About Prosper Mobile Insights™
Prosper Mobile Insights™ provides companies with a comprehensive view of how consumers are using mobile devices including smartphones and tablets. The insights illustrate how consumers are engaging with digital media, including ownership, purchase intentions, activities, usage, service, influence, and ultimately how new technologies are reshaping consumers' lives. The March mobile survey included 346 smartphone and tablet users from the SSI Panel who completed the survey on their devices. The survey was collected from 3/26 - 4/2/12 and the margin of error is 5.3%. Prosper Mobile Insights™ is a trademark of Prosper Business Development. http://www.prospermobile.com
Survey Sampling International (SSI)
Bringing together Survey Sampling International and Opinionology, SSI is the premier global provider of world-leading sampling, data collection and data analytic solutions for survey research. SSI reaches respondents in 72 countries via Internet, telephone, mobile/wireless and mixed access offerings. Value-add services include questionnaire design consultation, programming and hosting, data processing and real-time reporting. SSI serves more than 2,000 clients, including the top 50 research organizations. It has 30 offices serving clients around the world.
Contact:
Prosper Mobile Insights™
Chrissy Wissinger
chrissy(at)goprosper(dot)com
Randi Honkonen
randi(at)goprosper(dot)com
614-846-0146
SSI
Ilene Siegalovsky
Ilene_Siegalovsky(at)surveysampling(dot)com
203-567-7230
Android™ is a trademark of Google, Inc.