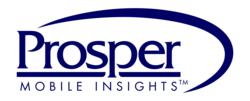 More Men than Women Say Mobile Ads Influence the Products they Purchase
Worthington, OH (PRWEB) June 06, 2012
Although marketers are still unsure of their profitability, mobile ads are expected to increase over the next few years, and mobile ad spending could soar to over $10 billion by 2016. And with social media giant Facebook now offering faster and easier mobile ad integration, brands taking advantage of smartphone and tablet solicitation need to understand not only where to reach their audience, but where they can capture their audience's full attention.
3 in 4 Mobile Users (74.0%) fully pay attention to mobile ads while surfing the web, according to a recent survey conducted by Prosper Mobile Insights™. Further, the majority (59.5%) of smartphone and tablet users say they regularly or occasionally pay full attention to ads they see while visiting social media sites on their devices. Fewer fully pay attention while downloading apps or music, shopping and playing games:
"While using your smartphone or tablet, how often do you fully pay attention to advertisements when…"
(Mobile Users)
Surfing the Web
Regularly: 35.3%
Occasionally: 38.7%
Never: 26.0%
Visiting social media sites
Regularly: 26.9%
Occasionally: 32.6%
Never: 40.5%
Downloading apps/music/etc.
Regularly: 20.8%
Occasionally: 34.4%
Never: 44.7%
Watching video clips
Regularly: 15.1%
Occasionally: 38.1%
Never: 46.8%
Shopping on device
Regularly: 18.7%
Occasionally: 34.1%
Never: 47.1%
Playing games
Regularly: 21.8%
Occasionally: 29.0%
Never: 49.2%
Watching full TV episodes
Regularly: 13.3%
Occasionally: 23.0%
Never: 63.7%
Source: Prosper Mobile Insights™ Mobile Survey, May-12
It seems as though Mobile Users are getting good at ignoring advertisements displayed within gaming apps and during TV episodes viewed via mobile devices.
For a full, complimentary report, including gender segments, click here.
When it comes to more frequent ad retention, men appear more likely than women to regularly pay attention to mobile ads, especially when surfing the web (38.2% of men vs. 32.8% of women), watching video clips (17.8% vs. 12.6%) and surprisingly, shopping (21.7% vs. 16.1%). Further, 51.0% of men say advertisements viewed on a smartphone or tablet regularly or occasionally influence the products and brands they purchase. Fewer women (43.7%) said the same.
"While men are more likely than women to pay attention to mobile ads, they are less likely than their female counterparts to use smartphones and tablets for shopping-related activities," said Pam Goodfellow, Consumer Insights Director at BIGinsight. "Men are less likely than women to use their mobile device to browse for products and services, locate a retailer or store hours and read product reviews."
Although more likely to pay attention to ads, slightly more men (29.3%) admitted to paying for an ad-free version of an app compared to women (26.4%). Further, nearly half of Mobile Users (46.2%) are not at all or not very willing to pay to remove advertisements from their favorite social media sites. Women (51.0%) were more likely than men (40.1%) to be not at all or not very willing to pay for an ad-free Facebook or other social site sans ads.
For more insights on how consumers are using smartphones and tablets, download the Prosper Mobile Android™ Tablet App or install the Apple Web App. You can also access the online Prosper Mobile InsightCenter™, recently updated with new May mobile survey data.
About Prosper Mobile Insights™
Prosper Mobile Insights provides companies with advanced cloud-based technology-driven solutions delivered via multiple devices (PC/Tablet/Smartphone) from the Prosper Mobile InsightCenter™. This decision center provides a comprehensive view of how consumers are using mobile devices including smartphones and tablets. The insights illustrate how consumers are engaging with digital media, including ownership, purchase intentions, activities, usage, service, influence, and ultimately how new technologies are reshaping consumers' lives. The May mobile survey included 331 smartphone and tablet users from the SSI Panel who completed the survey on their devices. The survey was collected from 5/21 - 5/25/12 and the margin of error is 5.4%. Prosper Mobile Insights™ is a trademark of Prosper Business Development. http://www.prospermobile.com
Survey Sampling International (SSI)
Bringing together Survey Sampling International and Opinionology, SSI is the premier global provider of world-leading sampling, data collection and data analytic solutions for survey research. SSI reaches respondents in 72 countries via Internet, telephone, mobile/wireless and mixed access offerings. Value-add services include questionnaire design consultation, programming and hosting, data processing and real-time reporting. SSI serves more than 2,000 clients, including the top 50 research organizations. It has 30 offices serving clients around the world.
Contact:
Prosper Mobile Insights™
Chrissy Wissinger
chrissy(at)biginsight(dot)com
Randi Honkonen
randi(at)biginsight(dot)com
614-846-0146
SSI
Ilene Siegalovsky
Ilene_Siegalovsky(at)surveysampling(dot)com
203-567-7230
Android™ is a trademark of Google, Inc.
###