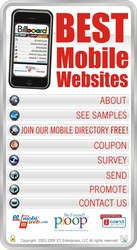 Our mission with PdOOP is to build one of the finest mobile search directories in the world.
Scottsdale, AZ (PRWEB) March 17, 2009
MobiWeb® is proud to announce the launch of PdOOP®, a revolutionary mobile advertising and search service for smartphones, PDAs and other mobile devices. PdOOP is the latest MobiWeb offering to provide quick, convenient and engaging information about people and businesses.
Designed for use with MobiWeb's other patent pending mobile Web products, MobiWeb® and iCard®, PdOOP enables businesses to search for and create a free, Web-based alternative media platform to reach and connect with clients. MobiWeb, a leader in the design, development and promotion of patent pending mobile Web sites, is also pleased to announce the launch of its newest Web site, http://www.GoMobiWeb.com, connecting people to http://www.PdOOP.com to quickly and easily sign-up and create their own free PdOOP listings. MobiWeb is working with Yahoo's business development team to market GoMobiWeb.com.
MobiWeb invites everyone to take the mobile challenge. Visit a personal or business Web site from a cell phone and then visit MobiWeb's at http://www.GoMobiWeb.com and check out mobile advertising samples listed on the "Samples" panel.
"MobiWeb created PdOOP because we understand the importance of being able to quickly search specific and accessible information from a mobile device," says Sandy Kosloff, founder of ICI Enterprises, LLC and MobiWeb. "Our mission with PdOOP is to build one of the finest mobile search directories in the world."
With a free PdOOP listing, a business can make its name, address, phone number, fax number and e-mail address easily available to anyone with a Web-accessible mobile device. PdOOP users can choose to upgrade their listings to a beautiful custom Web format at GoMobiWeb.com, which can also be used with an existing Web site to deliver a mobile friendly format for cell phone visitors.
With both services, MobiWeb provides prospective customers a "quick response" connection to a business's sales representative or service department. The PdOOP directory will only allow sites that are mobile friendly so users can be assured the sites they are being sent to will be pertinent and easy to follow from their specific device. Each interactive MobiWeb account is optimized for mobile devices and offers specific (Get Specific®) and engaging information that is easy to read and easy to navigate. Get Specific information may include sales incentives such as discounts and coupons, news, events, a survey panel with questions to gather customer feedback and management reports for monitoring traffic to a company's MobiWeb page. Geographical maps are also provided to give customers an easy way to access businesses.
The MobiWeb team is committed to creating the best mobile Web sites in order to deliver a "mobile friendly experience" to its users. MobiWeb's flexible format allows it to be used with an existing Web site or in conjunction with traditional and non-traditional ad programs, including online search ads, display ads, banners, e-mail programs, print ads, business cards, radio, TV, billboards, stickers, labels and more. Businesses can use MobiWeb with an online search campaign program like Yahoo to connect mobile consumers to MobiWeb pages. MobiWeb can also be used in mobile advertising campaigns to target specific consumers: users can combine MobiWeb with Yahoo services to target consumers of a specific age or gender, consumers from a certain state, consumers with smartphones, consumers with certain carriers and more.
Other beneficial features of MobiWeb include advertising opportunities and revenue share. MobiWeb offers sponsorship ad opportunities. The bottom of each MobiWeb card is available for sponsors. With its revenue share opportunity, MobiWeb users can make money when their listings are upgraded to MobiWeb (visit the Promotion panel on GoMobiWeb.com to learn more).
MobiWeb provides many other benefits as well, including: the option of adding multiple pages; flexibility of use with any domain extension; beautiful, engaging, unique and interactive formats that allow a business to preserve the look and feel of its company, Web site, branding and logo; MobiWeb's Quick Connect service, allowing customers to quickly get connected to any phone number listed on a MobiWeb account with the click of a button; and an optional merchant panel offering a new and great opportunity for retailers to sell their products over cell phones. Consumers will benefit, too -- they'll get convenience and value!
The PdOOP and MobiWeb family is committed to delivering personable and professional service, one customer at a time. Prices for MobiWeb start at $795.00 plus ($99.00/yr. hosting). For more information on the PdOOP mobile advertising and search directory, use a smartphone, cell phone or PDA to visit MobiWeb online at GoMobiWeb.com, call 602-820-1300 or visit http://www.CustomerService (at) GoMobiWeb.com.
###