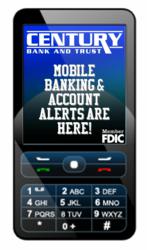 Mobile Banking at Century Bank and Trust is the ultimate on-demand service
Coldwater, MI (PRWEB) February 29, 2012
Mobile Banking at Century Bank and Trust is the ultimate on-demand service. With it customers can now monitor their accounts using a cell phone. With their cell phone, customers can receive alerts, view accounts, even transfer funds whenever needed. Customers can request a text message be sent if their balance falls below $50. Or when their direct deposit is in their account!
At Century Bank and Trust customers don't need Internet access on their phone to take advantage of Mobile Banking. They can send a simple text message to:
-View account balances
-View transaction history
Or, If a customer's cell phone has internet access, it gets even better:
-View account balances
-View transaction history
-Transfer funds between accounts
-Even pay bills
With Century Bank and Trust's Mobile Banking, information is fully secure.
With multiple layers of authentication, customers never have to worry about the wrong people getting information. A personal password and phone activation code keep information safe.
Mobile Banking is available to anyone currently enrolled in Century Bank and Trust's Online Banking service. To enroll, log on to Personal Online Banking and select Mobile Banking from the Options tab, then SIGN UP.
Here are some additional ways to easily access accounts 24/7 with Century Bank and Trust.
24/7 Telephone Banking:
Free Telephone Banking (Telebanc) at (517) 278-8621 or Toll Free (888) 278-8621
24/7 Online Banking:
Bank online 24/7 - Sign up today! Click here to enroll.
24/7 Mobile Banking:
All Century Online Banking customers have access to Mobile Banking. Just click here to learn more about how customers can gain access to accounts, anywhere, anytime.
24/7 Text Banking:
To set up, log in to Online Banking at http://www.CenturyBankandTrust.com and select "User Options" and then "Enroll Now" on the Mobile Banking Profile. Then just follow the prompts to set up a cell phone to do text banking. Once setup customers can send a text to 96924 with one of the following codes, and within 30 seconds they will receive the information requested in a text message.
-Bal- Get the balance on all Century accounts
-Hist (texting nickname)– For account history
-Branch (zip/city, state) – For office locations
-ATM (zip/city, state) - For ATM locations
24/7 Account Alerts:
Need to know when an account has a low balance? Stay informed about important activity in checking or savings account(s) with free Online Banking Account Alerts. The alerts can be delivered to customers via e-mail. A text message is also available for a low balance alert.
View Century's Account Alert's FAQs- click here. Or to set up an Account Alert, log in to Online Banking at http://www.CenturyBankandTrust.com and click "New" under the messages center and follow the prompts- it's that easy!
Century Bank and Trust was founded in 1890, as an independent community bank. As an independent community bank, Century Bank and Trust makes its business decisions locally for the continued success of its customers. Century's goal is to keep the local area's communities financially strong and growing and Century uses its deposits to make loans to local businesses and retail customers so the money stays within the community.
Specializing in building relationships with its customers and communities, Century focuses on long-term, multiple account relationships and customized products that fit customer needs.
Within the community, Century Bank and Trust, is proud to support over 250 local charities, events and organizations. To learn more about Century Bank and Trust visit CenturyBankandTrust.com or call Toll Free (866) 680-2265.
###