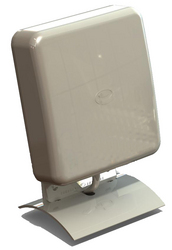 The WM11 range is an adaptive and affordable solution that will help people reach faster mobile broadband speeds
London, UK (PRWEB) June 9, 2010
Panorama Antennas, RF Antenna Company has launched a high gain antenna for mobile broadband USB sticks & routers. Designed to enhance mobile broadband signal and increase internet speed, the antenna is an all-in-one solution that is retail ready.
With recent push in mobile broadband thanks to increased speeds and reduced prices the demand and take up of such devices has grown rapidly in the last few years. However not everybody is getting a fair share of the high speeds. With mobile broadband signal strength and connections speeds patchy in fringe areas the installation of an external antenna is often all that the customer needs in order to reach the high speeds.
The Panorama Antennas WM11-ABOX & WM11-DBOX range comes complete with three mounting options; desk mount, mast mount and wall mount, a 10 metre (33 ft) low loss cable for external installations and 2 metre (6.5ft) low loss cable for internal desk mounting installations. This kit can also be provided with an adaptor lead to plug straight into the USB device to 3G router.
"Panorama Antennas is a leader in providing high performance antennas for the global wireless communications market," stated Christopher Jesman, Managing Director. "The WM11 range is an adaptive and affordable solution that will help people reach faster mobile broadband speeds."
For additional information on the new WM11-ABOX & WM11-DBOX range or to order samples, call Panorama Antennas or visit http://www.panorama-antennas.com/mobilebroadband.
About Panorama Antennas Ltd:
Panorama Antennas, a family business now in its 3rd generation, is a leading designer and manufacturer of antennas for radio communications. Established in London in 1947, Panorama started life as a company manufacturing consumer products. By 1952, buoyed by huge demand for TV's in the UK, Panorama had moved into the manufacturing of components for televisions including antennas. Today, Panorama is a major producer of antennas for telecommunications and electronics companies around the world employs over 50 people and has 8 overseas sales offices.
Contact:
Mark Jesman, head of marketing
Panorama Antennas Ltd
+44 (0)20 8877 4444
http://www.panorama-antennas.com
###