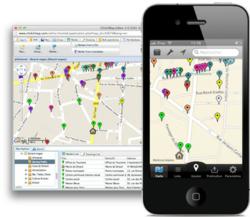 Click2Map for iPhone is the Professional Mobile Map Creation App of Choice
Metz, France (PRWEB) December 03, 2012
Click2Map has been providing international users with a powerful online mapping solution for years and the development of a companion mobile application was a natural progression. In addition to offering superior mapping services with its online editor, Click2Map now makes it possible for mobile users to access and manage their maps wherever they are, whenever they need to.
Click2Map for iPhone and iPad is the natural addition to Click2Map's web based map editor, allowing users from all over the world to create, manage and publish professional online maps.
Since its inception, Click2Map's goal has been to offer a simple yet powerful tool allowing non-technical users to create maps and publish them. Users praise the effectiveness and versatility of the Click2Map Editor that helps them create placemarks both manually and from existing data through its convenient import wizard.
Click2Map's power and functionalities are now accessible from any iPhone and iPad: new users will be seduced by Click2Map's wide range of potential applications, both personal and professional, and existing users of the web editor will be thrilled to access and modify all the maps they've already created online.
Click2Map for iPhone and iPad comes with a host of exclusive new features taking full advantage of the mobile platform and hardware: GPS information makes it easy to create placemarks at the cur-rent location; adding photos to a placemark by directly shooting them or selecting them from the phone's gallery is a breeze; precisely repositioning placemarks on the spot to make sure they're accurate is as simple as possible… The Timer mode even makes it possible to automatically generate new placemarks at regular intervals.
Click2Map for iPhone and iPad is a great app for users who want to keep track of the places they visit and need to associate them with photos and comments: the possibility to save photos at a precise location is a precious functionality when visiting properties or making on site surveys.
Click2Map for iPhone and iPad is the ideal companion application to the Click2Map.com online mapping service: it offers permanent access to maps and data even when on the road visiting clients or places. The mobile application makes it easy to check a placemark's position on the spot, to add information and photos taken on location.