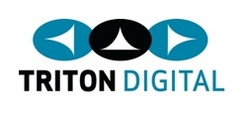 Four innovative companies have come together to provide the industry with an exciting, engaging and elegantly integrated platform
Los Angeles (Vocus) April 15, 2009
Triton Digital Media, the leading provider of digital solutions to the radio industry and a division of Triton Media Group, LLC, announced today a new strategic partnership with AirKast, Inc. Under the terms of this partnership, Triton is offering its affiliate customers the AirKast mobile media platform as an integrated solution in cooperation with Triton's leading digital services partners, Ando Media and StreamTheWorld. This solution is the industry's first fully integrated rich media mobile ecosystem that allows radio groups to quickly and easily implement, and then monetize, their mobile marketing strategies.
"Four innovative companies have come together to provide the industry with an exciting, engaging and elegantly integrated platform," said Mike Agovino, Co-Founder and COO for Triton Media Group, LLC. "This ground-breaking partnership allows content to be enjoyed when and where your audience chooses to experience it. In addition, we've made it simple to administer and easy to afford."
Available now, the integrated solution from Triton Digital includes: the TuneKast mobile radio solution from AirKast; Ando Media ad serving and audience measurement services; and mobile content delivery services from StreamTheWorld. TuneKast empowers radio groups to rapidly deploy a mobile strategy and deliver their content, information and advertiser messages in audio, display and video formats to millions of mobile handsets. Broadcasters can use StreamTheWorld's streaming solution to distribute their content. Finally, using Ando Ad Injector and Ando Webcast Metrics, groups can traffic, serve and measure their ads. As an integrated solution, radio groups can widen their audiences and increase advertiser revenues as well as rapidly bring new and unique revenue opportunities to market faster than ever.
"We're excited to offer Triton affiliates an interactive radio solution that expands their brands to millions of new mobile distribution points," said Larry Leung, CEO for AirKast. "To succeed in this competitive market, stations must reach their audiences wherever they are with unique and rich content. Now, stations can use TuneKast to push new material and interact with listeners on their mobile phones all integrated with the best products for distributing and measuring their outreach from day one."
Paul Krasinski, Ando Media EVP and General Manager said, "The efficiencies this partnership creates through an integrated solution with Triton Digital, AirKast, StreamTheWorld and Ando Media reduces the costs and risks of implementing a mobile solution. Customers are excited about the ability to traffic, schedule and measure ad activity through the same Ando Campaign Manager consoles for both in-stream and mobile ad campaigns. Those are immediate and tangible benefits all radio operations groups understand."
The AirKast's mobile radio solution is available now through Triton Digital Media.
About AirKast
AirKast is a mobile media software provider that develops solutions to extend and enhance real-time media to mobile device users. TuneKast, a broadcast media monitoring system, is astounding live radio listeners, stations and advertisers alike with its ability to monitor radio content and deliver targeted information to mobile users. AirKast is headquartered in the heart of Silicon Valley with an office strategically located in New York City. For more information on AirKast, visit http://www.airkast.com .
About Triton Media Group, LLC
Triton Media Group, LLC is the leading supplier of digital products and services to the media industry. Its Triton Digital division supports more than 3,500 radio station affiliations with applications and content. Through its Triton Radio Networks division, Triton owns and operates Dial-Global (http://www.dial-global.com ), which provides sales representation services to national radio production companies, producing more than 100 different programs and services in addition to providing syndicated programming and services to radio. For more information about Triton Digital, visit http://www.tritondigitalmedia.com .
Contact:
Maya Ben-Yehuda
Bailey Gardiner
619-295-8232 x119
maya(at)baileygardiner.com
All trademarks and registered trademarks are the properties of their respective owners.
###