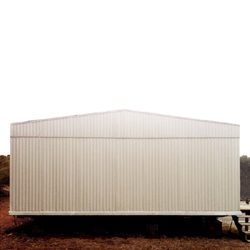 Fredericksburg, VA (PRWEB) February 2, 2011
Five large mobile office trailers, once destined to house the independent film and television studio, CauseTV, will go on sale Thursday morning, February 3, at an online auction conducted by Rasmus Auctioneers with no reserve.
Each mobile office measures 38 ft. by 24 ft., offering a total of 4,560 sq. ft. All offices have operating heating and air conditioning. Title is free and clear.
The online public auction will take place shortly after 11:00 am EST on Thursday. Bidders must register with Rasmus beforehand for the Internet-only auction. The mobile office trailers can be viewed online at http://rasmus.com until the close of the auction.
Although they were built to be long-lasting, the mobile offices were first temporarily used as mobile classrooms while a public school waited for major construction to be completed on its campus. The portable classrooms were proven to present a very long useful life, low maintenance, and healthy, comfortable environments for all students and school staff. These modular buildings helped to shorten the time to construct a deadline-driven school facility project.
CauseTV purchased the units in broom-clean condition to set up an indie film and television production facility on the East Coast, but the company has now plans to relocate to the West Coast. The company will assist buyers with professional moving and set-up services, and interested parties can discuss these arrangements with Monty Simmons prior to the auction by calling 202-374-1029.
In addition, the company passes along the following best practices for those planning to use mobile offices in a warm-to-hot climate:

Utilize demand control ventilation to reduce moisture loads on dehumidification equipment while providing precisely correct ventilation rates for the occupants at all times. DCV will immediately increase and decrease the ventilation rates as occupants come and go and will do it within seconds. Correct and economical ventilation of portables almost never occurs, even in the newest designs. A good DCV design can also maintain essential positive building pressurization. Sophisticated DCV retrofits for existing air conditioning units are available.
Never use wall finishes that can slow the release of moisture from the walls and into the breathing zone where the water vapor can be removed by dehumidification (vinyl wall covering, gloss or semi gloss paint, foil, mirrors).
Prevent any depressurization/pressurization of the exterior wall cavities by air conditioner operation. This is very simple and easy to accomplish but is almost never done.
Ensure that the exterior shell or pressure envelope is air and moisture tight to prevent entry of water vapor as well as water.
Correct roof leaks immediately. Poor workmanship and improper material use is more than common.
Never close off the ventilation air intakes in an attempt to control moisture or humidity problems. To do so almost always causes the building to become negatively pressurized with mold and moisture problem consequences.
Ensure that the air conditioner can maintain a temperature drop of about twenty degrees as the air passes through the cooling coils.
Use occupancy sensors to operate exhaust fans when bathrooms become occupied and for a few minutes after they become vacant. Use significantly reduced exhaust airflow rates when vacant.
In hot, humid climates, expect that mold and moisture issues will be worst in the late fall and early spring when air conditioners are not often operating and dehumidifying indoor air. Use dehumidifiers during such periods.
About CauseTV
CauseTV is a film and television group in Virginia that specializes in producing and distributing programs covering a broad range of cause-related topics. Its online channels cover issues including Adoption, Animal Rights, Anti-Violence, Charter Schools, Climate Change, Cyber Security, The Death Penalty, Digital Divide, The Environment, Environmental Justice, Genetic Engineering, HIV/AIDS, Home Schooling, Human Rights, Human Trafficking, Immigration, Juvenile Justice, Online Predators, Peace, Pollution, Poverty, Public-Private Partnerships, Road Safety, School Safety, Social Entrepreneurs, Substance Abuse, Sustainable Development, Water Treatment, World Hunger, and Youth Violence. For more, visit CauseTV.org.
# # #