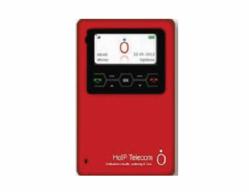 As we reach out to identify global distributors for our specialized mobile phone applications, HoIP is an example of an ideal partner. They provide us with health care market penetration," said Real Phone Corp. President Bob Czajkowski
San Diego, Calif. (PRWEB) October 23, 2012
Real Phone Corp. (RPC), the makers of the LOGO PHONE, possibly the world's thinnest mobile phone, is pleased to announce it has extended its distribution channels through an agreement with HoIP Telecom Ltd. of the United Kingdom. HoIP is the U.K.'s first Mobile Virtual Network Operator (MVNO) dedicated to health, well-being and care specialists.
Effective immediately the agreement entitles HoIP Telecom the rights to distribute Real Phone products in the United Kingdom. Through HoIP Telecom's strong local MVNO presence and dedicated partner networks of health, well-being and care specialists, Real Phone Corp. expands its commercial presence into the U.K. market. The agreement includes provisions for HoIP Telecom to expand its activities throughout Europe. HoIP will private label the Real Phone mobile phone products under the CURO model name.
The CURO mobile phone is the exact size of a credit card--only 5.9 mm thick with a rechargeable encased battery. It is light, durable, fully encased and water resistant. With embedded voice recognition software, it uses voice-activated name or digit dialing. The phone is simple to operate and trained for the user's voice. It does not have a traditional keypad. One simply speaks the name or number to call. Other key features include: multiple colors and finishes, four line color display, incoming and outgoing text messages, recent call register, multiple languages, headset jack and flat housing for branding with company logos.
"As we reach out to identify global distributors for our specialized mobile phone applications, HoIP Telecom is an example of an ideal partner. HoIP's network and mobile operator role provides us with health care market penetration," said Real Phone Corp. President, Robert Czajkowski. "We are confident that HoIP Telecom's innovative fresh approach as a MVNO will leverage our position in the U.K. market. Our phone's features--small size, lightweight and ease of use by voice dialing, make it an ideal solution for the blind, elderly and infirm. It's for these exact reasons that HoIP selected our LOGO PHONE for the company's mobile phone application."
"Real Phone's range of innovative products gives us a source of competitive advantage; we believe Real Phone's unique range of products will have great success. This collaboration makes good business sense, and our team is very excited about this cooperation," said Dr. Andrew Marsh, CEO of HoIP Telecom Ltd.
About Real Phone Corp.
Founded in May 2007 by electronics and telecom industry subject-matter experts, Real Phone Corp. develops and manufactures unique mobile phones for promotional and special applications. Its patent pending LOGO PHONE™ is designed to be the world's thinnest and lightest mobile phone. Voice activation eliminates the need for a traditional keypad. The SPORTS PHONE model is the company's first lifestyle LOGO Mobile Phone. Real Phone Corp. is privately owned and located in San Diego, Calif. For more information regarding becoming a distributor or purchasing a mobile phone visit http://www.realphonecorp.com.
About HoIP Telecom Ltd.
HoIP Telecom Ltd. was established in 2009 as a Mobile Virtual Network Operator (MVNO) to address a niche market, namely the provision of mobile services dedicated to health, well-being and care. HoIP Telecom founders identified the importance and real need for tailored mobile services to support assisted living, for example a network resilient SIM card that could roam over all U.K. networks to be used by medical personal in case of emergency. HoIP Telecom is the U.K.'s first MVNO dedicated to Health, Wellbeing and Care. It provides affordable, high quality, mobile products and mobile operator services for those with a duty to care. For more information about HoIP Telecom, visit http://www.hoip-telecom.co.uk.