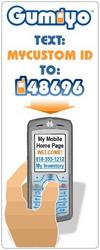 Gumiyo is creating an entirely new way to expose and target inventory to interested buyers—anytime, anywhere
Woodland Hills, Calif. (PRWEB) October 30, 2007
Yuri Pikover, a noted Southern California technology entrepreneur, has joined technology veterans Chuck Abronson and Harvey Olifson on the board to help guide the company in its bid to become a leading mobile marketplace. With this funding and Mr. Pikover's expertise, Gumiyo gains additional resources to enable real estate professionals, auto dealers, and other businesses to expand their reach to buyers "on-the-go."
Gumiyo connects buyers and sellers by extending the online marketplace to mobile phones. The service provides sellers with unique mobile homepages and the means to drive traffic from print ads, signs, flyers, or any type of offline and online advertising by including Gumiyo's short code (48696) with specialized SMS text-messages. With its broad range of advanced mobile-based marketing tools and technologies, Gumiyo seeks to revolutionize the consumer-to-consumer and business-to-consumer mobile commerce experience.
"Gumiyo is creating an entirely new way to expose and target inventory to interested buyers—anytime, anywhere," says Yuri Pikover, Gumiyo's newest board member. "Mobile is the next big marketing channel and, based on my experience in the retail automobile industry, I'm convinced that Gumiyo is the onramp to a mobile marketing strategy for automobile dealers along with other big-ticket items like real estate or furniture. In addition, there are great use-cases for job hunters, service providers, and even personals."
Mr. Pikover has been instrumental in a series of Southern California tech companies. In 1993 he co-founded Calabasas-based Xylan Corporation, which invented network-wide switching technology and grew to over $300 million in revenues in four years. Xylan was sold to Alcatel for $2 billion in 1999. Mr. Pikover then moved on to be CEO of Access 360, based in Orange County, which pioneered automated organization-wide access control, and which was sold to IBM in the depths of the tech downturn. Most recently, Mr. Pikover has been a leader in developing systems that support automotive dealerships.
Mr. Abronson, a serial entrepreneur and founder and CEO of two technology companies, managed a successful IPO of his first company, Newbury Park, CA-based Amplica Inc., and its subsequent merger with COMSAT Corp in 1982. His second company, Westlake Village, CA-based EEsof, Inc, was acquired by Hewlett Packard Co in 1993. He is currently co-founder and Chairman of Newbury Park-based CAP Wireless, Inc., a telecommunications and defense electronics company, and is Managing GP of Accordance Ventures, LP, which holds investments in real estate and public and private corporations. As a limited partner in a number of VC firms, Abronson served on the boards of VC-backed technology companies and assisted in or directed their merger and sale activities.
Mr. Olifson was the co-founder of a microwave technology company that provided equipment to the aerospace and telecommunications industries. Upon acquisition of his first company, he went on to co-found and is currently co-president of one of the most successful manufacturers' rep companies in Southern California, specializing in servicing defense electronics and commercial communications markets. As one of the original investors and board members in a CAD/CAE software company, Harvey helped the company successfully raise additional rounds of financing.
###