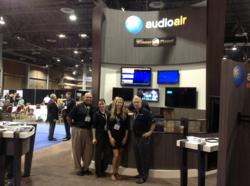 Las Vegas, NV (PRWEB) October 06, 2012
Durango, Colorado based Airborne Media Group, Inc. ("Airborne") successfully participated as an Exhibitor and Sponsor at the 2012 Global Gaming Expo in Las Vegas, Nevada this week. The company's aim was to showcase the groundbreaking Audioair® system and the new Winner Planet™ product suite in concert with its strategic and technical partner, the Southern Ute Tribe's Sky Ute Casino.
Audioair® provides a revolutionary new entertainment experience providing Smartphone users the ability to selectively listen to and interact with televisions and digital displays which require their audio muted for noise considerations. It also provides a powerful location-based advertising and CRM platform. Winner Planet™ utilizes the Audioair platform and its innovative mobile application and further optimizes the casino customer experience by permitting rich interaction between the casino and its customers before, during and after they leave the premises.
The Southern Ute Tribe and its Sky Ute Casino and Airborne entered into their alliance earlier this year. The alliance represents a collaborative effort between an emerging high technology company and an experienced Native American casino operation. The two parties will launch a strategic product rollout to other Native American and indigenous peoples' gaming operations in 2012 and seek to further evolve their combined product suite to introduce state-of-the-art social networking and mobile commerce features.
The premier trade show and conference for the international gaming entertainment industry, Global Gaming Expo 2012 (G2E), was held Oct. 1-4, 2012 at the Sands Expo and Convention Center in Las Vegas, Nevada. G2E features the latest gaming, hospitality, entertainment and tech products for the Casino and Gaming Industry.
Airborne Media Group CEO, Cordell Brown stated, "We were very pleased to make our debut at G2E 2012 with our strategic partners Sky Ute Casino and the Southern Ute Tribe. Our intent was to introduce our breakthrough mobile commerce and social networking technology, Audioair®, as well as unveil our innovative new mobile application, Winner Planet™ developed specifically for the Indian Gaming market. Our efforts were rewarded by the tremendous interest that we received from show partners and attendees alike, all of which is very affirming to our progress and achievements over the past six months in our collaboration with Sky Ute Casino, E7 Systems and the Southern Ute Tribe."
Further features of the Winner Planet™ product suite are designed to provide instant communication between the Casino and its players; giving players an opportunity to get the latest promotions as soon as they are launched and even plan their visit while in transit. It goes further in keeping players up-to-date on loyalty points, delivering cash-on-demand on the casino floor, and providing fun/learning tools for craps and other casino games. Airborne's patent pending technology features a free mobile application available in the App Store and Google Play marketplace, and is designed to interface with a proprietary Audioair® system that's installed on premise. The Wi-Fi-enabled app also permits customers to enjoy social chat features, Facebook check-in, digital screen interactivity and receive location-driven content. The result of Airborne's rapidly expanding network of Audioair® systems is the emergence of an all new dedicated mobile media channel, giving local and national brands the opportunity for highly targeted mobile advertising campaigns with interactive and location-based content that is distributed to people on the Audioair® network.