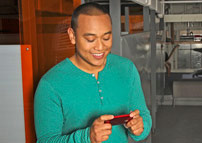 According to Digital Arts Department director, Susan Varnum, "This goes beyond graphic design; good mobile app design encompasses human interaction and design, i.e. designing a physical interface to be explored by human hands."
La Jolla, CA (PRWEB) April 07, 2012
To gain practical skills and expand career opportunities, UC San Diego Extension's Digital Arts department offers two individual classes relating to mobile app design and publishing to mobile devices in spring 2012: Adobe InDesign: Publishing to Tablets and Other Mobile Devices and Mobile Apps for Multiple Platforms.
These mobile app design classes, developed with graphic designers and web designers in mind, will help entrepreneurs and hobbyists find ways to participate and profit in this growing mobile app industry.
In Publishing to Tablets and Other Mobile Devices, students will learn how to use Adobe InDesign to create interactive publications for tablets and mobile devices such as iPhones, iPads, and Android. Mobile Apps for Multiple Platforms, led by Qualcomm's Chris Griffith, will show students how to design and develop of mobile apps using powerful technologies, and students will create a single app that they can export to a variety of devices.
UC San Diego Extension's Digital Arts department also offers a one year professional certificate in Mobile Applications which focuses on development, design, and the business of Mobile Apps.
This career focused program emphasizes the importance of design within the development process. Great design comes from great training, and when it comes to creating Mobile Apps, design is as important as ever. The decisions made at the design stage can ultimately determine an app's success or failure, so it's essential to plan user-flows and interactions before starting actual mobile app development. According to Digital Arts Department director, Susan Varnum, "This goes beyond graphic design; good mobile app design encompasses human interaction and design, i.e. designing a physical interface to be explored by human hands."
In the program, students learn to design from the ground up, and carefully consider how to take advantage of the new opportunities that mobile devices offer, such as GPS, compass, camera, accelerometer, and more. Students will also focus on the intricate design needs of touch interaction. Apps should be convenient, necessary and easy to use.
Students will also explore the benefits of maintaining a consistent look and feel for branding, from print to web and mobile. It is important to not just re-purpose a website; mobile apps should be designed to take full advantage of the medium. It's a challenge for designer/developers to find the balance between variation in the visual and functionality from the website, and having the experience be intuitive and familiar.
If you are looking at a career change, work at a company that needs mobile apps, want to increase your value at your company, or simply want to become involved in the growing mobile app market, this is the place to begin. For additional information visit the website:extension.ucsd.edu/digitalarts, email dac(at)ucsd(dot)edu or call 858.534.6705.
About UC San Diego Extension (extension.ucsd.edu)
As the continuing education and public programs arm of the university, UC San Diego Extension educates approximately 56,000 enrollees a year, which translates to over 26,000 students in more than 4,900 courses. UC San Diego Extension is recognized nationally and internationally for linking the public to expert professionals and the knowledge resources of the University of California. Through UCSD-TV, 1 million San Diego homes enjoy daily access to an abundance of useful ideas, creative minds and provocative thinkers. Although a part of the university since 1966, Extension receives no state support and relies on the funding generated from fees, contracts, grants, sponsors and donors for its annual budget of approximately $35 million.