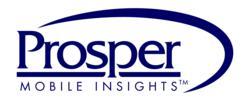 Men More Likely to Call Service Provider or Manufacturer for Help, Women Turn Device Off/On
Worthington, OH (PRWEB) May 08, 2012
Although many smartphone and tablet users rely heavily on their devices (nearly half of Smartphone Users (45.8%) say their smartphone is their life), these technological wonders are not perfect and service providers are not 100% reliable. Mobile Users cite slow Internet speed, the high cost of data and dropped calls as the top service provider problems, according to a recent survey conducted by Prosper Mobile Insights™.
"Do you ever experience any of the following problems with your mobile device service provider? (Check all that apply)"
Slow Internet connection: 36.9%
Cost of data plan too high: 32.0%
Dropped calls: 24.1%
Inconsistent access to 3G/4G network: 23.5%
Cost of minutes/calling plan too high: 18.0%
GPS dead zones: 17.7%
Cost of texting too high: 11.6%
Source: Prosper Mobile Insights™ Mobile Survey, April-12
Inconsistent access to 3G/4G networks is also a top provider problem for nearly 1 in 4, while fewer say they experience GPS dead zones and costly calling/texting plans.
"After price, coverage is the top reason why consumers switch wireless providers," said Pam Goodfellow, Consumer Insights Director at BIGinsight™. "Service, reliability and Internet access also rank high for mobile consumers."
For a full, complimentary report, including gender segments, click here.
Mobile Users also have problems with devices themselves: short battery life (46.6%), connection issues (32.0%) and freezing (also 32.0%) are the top gadget glitches.
While top problems are the same for males and females, the genders have different approaches for dealing with device difficulties. Women are more likely than men to restart their devices while men are more likely than women to contact their service provider:
"When you have a problem with your smartphone or tablet, what do you generally do? (Check all that apply)"
Turn the device off and then back on
Men: 48.7%
Women: 60.9%
Contact service provider
Men: 40.9%
Women: 35.6%
Search for solution online
Men: 30.5%
Women: 29.3%
Source: Prosper Mobile Insights™ Mobile Survey, April-12
Men are also more likely than women to contact the device manufacturer (14.9% vs. 9.2%) and discuss their device problems via social media (9.7% vs. 4.6%).
"Although there are difficulties with mobile devices, these problems don't impede smartphone or tablet usage," said Goodfellow. "One in four learns to live with mobile malfunctions and accepts these issues as part of the cost of any new technology."
For more insights on how consumers are using smartphones and tablets, download the Prosper Mobile Android™ Tablet App or install the Apple Web App. You can also access the online Prosper Mobile InsightCenter™, recently updated with new April mobile survey data.
About Prosper Mobile Insights™
Prosper Mobile Insights™ provides companies with a comprehensive view of how consumers are using mobile devices including smartphones and tablets. The insights illustrate how consumers are engaging with digital media, including ownership, purchase intentions, activities, usage, service, influence, and ultimately how new technologies are reshaping consumers' lives. The April mobile survey included 328 smartphone and tablet users from the SSI Panel who completed the survey on their devices. The survey was collected from 4/23 - 4/27/12 and the margin of error is 5.4%. Prosper Mobile Insights™ is a trademark of Prosper Business Development. http://www.prospermobile.com
Survey Sampling International (SSI)
Bringing together Survey Sampling International and Opinionology, SSI is the premier global provider of world-leading sampling, data collection and data analytic solutions for survey research. SSI reaches respondents in 72 countries via Internet, telephone, mobile/wireless and mixed access offerings. Value-add services include questionnaire design consultation, programming and hosting, data processing and real-time reporting. SSI serves more than 2,000 clients, including the top 50 research organizations. It has 30 offices serving clients around the world.
Contact:
Prosper Mobile Insights™
Chrissy Wissinger
chrissy (at) biginsight (dot) com
Randi Honkonen
randi (at) biginsight (dot) com
614-846-0146
SSI
Ilene Siegalovsky
Ilene_Siegalovsky (at) surveysampling (dot) com
203-567-7230
Android™ is a trademark of Google, Inc.