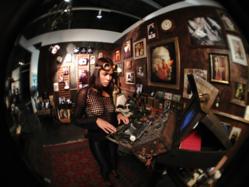 The iPrints Store is a far-reaching sales platform for IPA's international band of mobile artists.
Santa Monica, California (PRWEB) October 30, 2012
With the release of the iPhone5, mobile artist have been given an even more sophisticated tool to experiment and create with. Recently in Santa Monica the LA Mobile Arts Festival 2012 (LA-MAF), mounted by iPhoneArt.com (IPA), showcased how mobile digital technology is transforming the arts. LA-MAF garnered international media attention from organizations such as The Huffington Post, The Los Angeles Times, CNN, NBC, NASDAQ news, Daily Mail and more as more than 2000 people came to view the largest exhibition of mobile artistry to date during its 8-day run.
A primary reason the exhibition drew so much praise was due to the unexpected presentation of the work. Over 600 pieces were shown in print, mounted on hand-crafted bamboo panels, printed on specially coated aluminum plates, printed on glass, on mirrors, presented in vintage Victorian frames. Some prints were produced nearly 4 feet tall—and each and every piece was museum-quality. The beautiful presentation and quality of the prints resulting from mobile device files at this year's LA-MAF was a primary reason that the show itself was reported on so extensively, and why so many pieces sold in such a short time.
"Many people walked into the lost Angeles show, then came over to ask, so where's the work that was done on the iPhone?" said Nate Park, cofounder of iPhoneArt.com and the LA Mobile Arts Festival of International Artists. "Little did they know they were already surrounded by it—600-plus images and installations from around the globe."
All work at the LA-MAF was produced by IPA's new iPrints Store. Now, following the success of the show, the iPrints Store is opening to the general public, bringing the opportunity for LA-MAF artists and iPhoneographers everywhere to print their iPhone files with the quality necessary to appeal to art buyers and advance their career in today's exploding world of mobile art. The iPrints Store will allow artists to take advantage of the fine art print and file prep expertise of the IPA team, and to have them produced with the same unique surfaces and print options that generated so much positive feedback from those who witnessed the LA-MAF.
"The iPrints Store is a far-reaching sales platform for IPA's international band of mobile artists. The public gallery is a curated space, so you must submit your portfolio for review. Once accepted, the artist has full control over their works while the site tracks limited and signed editions, offers museum-quality file prep assistance, printing, and mounting on unique, eco-friendly bamboo panels. It's not a quick-print system run through one of the online mega-printers. It is not an instant-anything. Instead, each work is printed with personal attention, hand crafted to order, and shipped world-wide," said Daria Polichetti, cofounder of IPA, the LA MAFia and the iPrints Store. (http://www.iPrints.iPhoneart.com)
"At iPhoneArt.com, we feed each others' creativity," said one iPhoneArt.com artist. "The LA Mobile Arts Festival 2012 was one example of what this mobile art community is capable of. The iPrints Store is another. We are thrilled to have this window on the world."
Today, the technology of the iPhone, iPad and other mobile devices continues to bring old and new ideas together. It allows real life to appear on our screen anywhere we go and provides a set of digital tools to interpret, embellish or create something entirely new.
About iPhoneArt.com & LA-MAF
The LA Mobile Arts Festival 2012 is the culmination of a dream by IPA founders Daria Polichetti and Nathanial Park to establish a vibrant modern-day artists' colony devoted to the mobile digital arts. The iPrints Store is another. iPhoneArt.com, now two years old, is a place where people of all levels of expertise, amateur and professional, gather to share techniques, evaluate new technologies and discuss their latest creative works. Where veterans of the art form mentor newcomers to the field. The LA-MAF exhibition, a first-of-its-kind for the mobile arts, was curated and produced by iPhoneArt.com as is the newly opened iPrints Store, a curated space that allows the most talented mobile artists to produce and sell their work to galleries and art buyers around the globe.