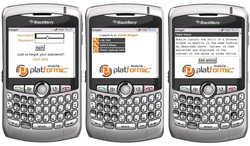 Each of our networks serves as a bridge between sports fans and their favorite local teams, and this technology helps us make that bridge as short as possible
San Diego, CA (PRWEB) August 20, 2009
Platformic, an end-to-end online web development environment and content management platform that allows businesses to quickly and easily build/update websites in real-time without sacrificing creativity or writing code (and without requiring third party authoring tools), today unveiled its Mobile Blogging Tool. The new addition to the groundbreaking online platform enables users (many with little or no web or technical experience) to easily add content such as video, photos and text to update existing articles, stories and blogs. New content can be added to Platformic powered sites using an iPhone, Blackberry or other mobile device with an Internet connection.
"The Mobile Blogging Tool offers great potential for reporters, professional bloggers and other businesses to easily create timely stories and keep existing content fresh, remotely or from the field, when reporting on breaking stories and special events. By allowing both text and rich media to be sent from mobile devices, Platformic guarantees that sites have the freshest, most recent and compelling content. Just a few clicks from their mobile phone and users have the power of Platformic in their hands," said Claudio Canive, CEO of Platformic.
Platformic's new Mobile Blogging Tool is highly intuitive and user-friendly. The latest addition to the company's innovative web development environment and content management system (CMS) offers even more flexibility, including content creation and editing in real-time, without requiring the use of a PC. The Mobile Blogging Tool also offers a streamlined platform interface and flexibility across a number of mobile devices. Users can report live from concerts, sporting events, and other live events and receive feedback from their website audience in real-time.
Once a user has established a blog in Platformic's main platform, he or she can log into it by mobile phone via the Platformic interface. From that device, the user can then enter text and post content immediately to the blog. Rich media including photos, audio or video (of, for example, fans going wild at a sporting event) can be sent using an assigned email address associated with the user. From there, the platform automatically takes the files and inserts them into the website media library. When the user logs into their Platformic site through the mobile phone browser, he or she can input text-based content using a streamlined Platformic mobile interface and associate any digital assets, including ones sent by the mobile device to his/her blog or to a new article he/she is writing. This provides a secondary security check that allows users to confirm they indeed want to post the text and media, and editors can apply additional publishing approvals using Platformic's user management system.
"Each of our networks serves as a bridge between sports fans and their favorite local teams, and this technology helps us make that bridge as short as possible," said Comcast Sports Group Executive Vice President and Chief Digital Officer, Eric Grilly. "Sports fans today have access to more information than ever before, so our ability to get the latest breaking news and updates to fans first is a huge competitive advantage for us. Our correspondents are able to use the Mobile Blogging Tool to file instant reports from training camp, draft day, road games, or wherever the news takes them, and our audience can connect with us and each other, creating the most robust online sports community in each of our markets."
Platformic's patented technology, used by leading broadcasters such as Tribune, Comcast SportsNet, Cox Media, Bicoastal Media, Broadcast Company of the Americas and Peak Broadcasting, enables users to easily build and manage media-rich websites that incorporate social media tools and user-generated content (UGC). Users can "visually" create layouts and manage content from a browser in a fraction of the time while maintaining look, feel and design integrity. The result is a completely customized website with a CMS that enables users to change the layout and content quickly and easily. Users can update sites or change their entire look in minutes with no downtime. Staff members with little or no web experience can then simply update the sites more often to keep content fresh and make the site "stickier" for visitors.
About Platformic
Platformic is a complete end-to-end online web development environment (OWDE) and content management platform that allows businesses to quickly and easily build/update websites in real-time without sacrificing professional or creative standards or writing a single line of code. Used by leading companies such as Peak Broadcasting, Comcast SportsNet, and others, Platformic enables even users that are not technical in nature to visually create feature-rich websites from their browser that incorporate podcasts, video blogs, user-generated content, and other interactive tools and further the organization's online goals. Platformic makes updating content and its various formatting easy to manage, throughout the website, from a central place. Its versatility allows departments throughout an organization to expand online offerings and do more with less. For more information, visit http://www.platformic.com.
# # #