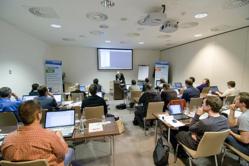 Mobile CRM workshop provides opportunity to get deep knowledge about best mobile solution for Dynamics CRM. Partners and customers will have a great chance to network with people from same industry.
Bratislava, Slovakia (PRWEB) October 17, 2012
Resco Mobile CRM Workshop is a 1-2 day event providing in-depth overview of a mobile solution for Microsoft Dynamics CRM. Attendees will get more information about the product and pricing. Moreover they will attend lectures about how to customize the mobile application to match any need of their client. The training is suitable for all Microsoft Dynamics CRM partners and customers that want to adapt Mobile CRM and network with people from the same industry. The program will cover all that is needed to know to successfully customize and deploy Mobile CRM client for Dynamics CRM.
Agenda:
1. Welcome & Intro
2. New Features—Collaboration Update
3. Licensing & Pricing, Partnership Programs
4. Case Study
5. App Demo
6. Intro to Woodford
7. Customization Examples
8. Mobile CRM Studio Overview
9. Round Tables
Dates
Boston, MA, USA – November 13, 2012 Register
Irvine, CA, USA – November 19, 2012 Register
Bratislava, Slovakia – November 19-20, 2012 Register
About Resco Mobile CRM
Resco Mobile CRM for Microsoft Dynamics CRM is an online/offline mobile client for iPhone/iPad, Android, Android Tablet, Windows Phone, Win CE and Windows 7/XP/Vista/8, with the support of features such as custom entities, interactive maps, GPS tracking, photo capturing, dashboards, and many more. The solution is fully customizable through easy to use configurator tool, or comprehensive .NET based developer platform with unlimited customization possibilities. Its technology leadership has been approved by adding the support of HTML5 and JavaScript allowing extending the mobile CRM application by web technologies.
For more information visit Resco Mobile CRM website