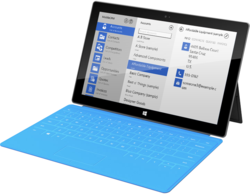 Mobile CRM 2012 Collaboration Update is one of the most important updates that Resco released in 2012
(PRWEB) October 04, 2012
Resco is a market leader with best mobile solution for Dynamics CRM servers. With the latest release - 3 new improvements brought very powerful form rules, corporate Facebook wall (Activity Feeds) and support for brand new Windows 8 tablets and computers with fresh metro looks.
1. Form rules and validations
New Visual Form Rules Editor was added allowing defining rules for forms (such as showing, hiding, marking required fields, displaying error messages or filling fields automatically) depending on the entity data. This new feature is a kind of alternative to JavaScript, which is available in CRM server environment. Visual Form Rules Editor is available in Woodford and it does not require any programming skills.
2. Activity feeds (corporate Facebook wall)
With Activity Feeds support user can follow what is important for them and post real-time updates on their corporate Facebook wall that all employees can see. Resco is planning to create a Chatter-like functionality known from Salesforce.
3. Windows 8 app
Resco Mobile CRM App is now available on the new, highly expected Windows 8 platform. The new mobile client meets Metro guidelines and is available in the Microsoft Store, as a certified and fully functional app with all the functionality you know from our other mobile platforms. It can be customized with Resco Mobile CRM Woodford (Configurator) and Studio (SDK).
Resco organizes Mobile CRM workshops in Boston, US on November 13, 2012 and Bratislava, Slovakia on November 19-20, 2012. Everybody can join these workshops here to get Resco Mobile CRM knowledge and network with CRM partners and customers.