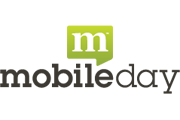 "With tens of millions of conference call users worldwide, MobileDay is attacking a large market with an innovative approach." - Brad Feld, Managing Director, Foundry Group.
Boulder, CO (PRWEB) July 11, 2012
MobileDay announces the launch of the company and its mobile One-Touch conference calling application. MobileDay's mission is to enable business professionals to work smarter from anywhere through a series of one-touch functions for iPhone and Android devices.
Business professionals are increasingly reliant on their mobile phones. The challenge is that most common business functions, such as dialing into conference calls, setting up appointments, and sending messages to meeting participants are clunky experiences at best. Conference calls are a core part of most workdays. However, dialing into conference calls when mobile, memorizing long passcodes, and re-dialing into calls after being dropped amount to an especially frustrating experience.
"Conference calling is a major hassle for mobile users and none of the conferencing vendors, phone manufacturers, or application vendors have tackled it well," said Elliot Gold, industry veteran and Teleconferencing Analyst at TeleSpan. "MobileDay has addressed this pain point for millions of business users with their innovative new app."
MobileDay features include:

One-Touch Dialing – MobileDay automatically dials into all conference calls without the need for the mobile user to enter any codes, #, 1s, or any other characters.
Support for any conference calling service –Whether host or guest of any conference call, MobileDay provides access with a single tap of the Join button.
Call Notification – MobileDay notifies the user 30 seconds before each call with options to join, dismiss or snooze the alert with one-touch.
Communicate with Meeting Attendees – MobileDay enables users to quickly and easily email or text their fellow meeting or conference call attendees with standard messages like, "I'm running late." or, "Are we still meeting?" or even a custom message.
Calendar Integration – MobileDay integrates seamlessly with a user's calendar to detect any conference calls.
"As a VC, I'm simultaneously on the road and on calls every day. I deeply understand the pain that MobileDay is trying to solve – making the conference call experience simple," said Brad Feld, Managing Director, Foundry Group. "With tens of millions of conference call users worldwide, MobileDay is attacking a large market with an innovative approach."
"Mobile devices are changing the face of business. Unfortunately, these devices are still largely consumer oriented and we see a massive opportunity to enable business professionals to be highly productive with their mobile devices," said Jim Haid, President & CEO of MobileDay. "Mobile conferencing is the first major pain point that we are targeting. With a simple, one-touch app we are enabling users to save time, be safer, and eliminate some of the hassle of their day."
MobileDay was founded by Rajat Bhargava, Jim Haid, Brad Dupee and Priyan Guneratne, four business executives that understood the pain first hand of trying to do business while being mobile. MobileDay is funded by Foundry Group, SoftBank Capital, SoftTech VC, Google Ventures, Box Group, DH Capital and David Cohen.
MobileDay is a free mobile app available now for iPhone and Android smartphones.
About MobileDay
MobileDay provides One-Touch access into any conference call. Painlessly connect into any call with your Android or iPhone. No matter where you are or what you are doing, MobileDay eliminates the hassle of dialing, remembering passcodes, or writing down conference details. For more information, visit http://mobileday.com.
Media Contacts:
Jennifer Karin
Matter Communications for MobileDay
978-771-3435
jkarin(at)matternow.com
Or
Jeana Tahnk
Matter Communications for MobileDay
609-240-5385
jtahnk(at)matternow.com