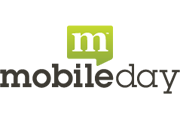 Boulder, CO (PRWEB) October 25, 2012
MobileDay, the essential mobile business app for instant one-touch access into any meeting, today announced new functionality for the Apple iPhone, making it even easier for professionals to work smarter from their mobile phones.
The MobileDay iPhone app now interoperates with commonly used multimedia and video meeting applications such as Apple FaceTime, Citrix GoToMeeting, Google+ Hangouts and Cisco's WebEx to provide enterprise organizations and individuals the ultimate in integrated mobile productivity. Users no longer need to toggle between apps or dial long phone numbers and access codes to connect and engage with important business contacts.
"With more than 50 percent of U.S. mobile consumers now owning a smartphone, this device has become a critical part of our business day, yet it has its limitations. Unfortunately, dialing into meetings, setting up appointments, and sending messages to meeting participants from a mobile device is so painful that most mobile users often avoid these tasks," said Jim Haid, CEO and founder, MobileDay. "The MobileDay app solves this problem, allowing the mobile worker and the workforce to be more productive using their selected device."
MobileDay's new features include:

Multimedia – Gain One-Touch access into any scheduled Apple FaceTime, Citrix GoToMeeting, Google+ Hangouts or Cisco WebEx meeting
Quick Call – Initiate and/or join unscheduled conference calls using stored host or guest call details
Reminders – Text meeting participants the entire conference call sequence to give them One-Touch access into your meeting right from the TXT reminder
The new features join the following core functionality:
One-Touch Dialing – Automatically dials into all conference calls in the mobile calendar without the need to enter codes, #, 1s, or other characters
Support for any conference calling service – Whether host or guest of any conference call, MobileDay provides access with a single tap of the Join button
Calendar Integration – MobileDay seamlessly detects upcoming scheduled calls and conference calls in the mobile calendar
Call Notification – Notifications pop 30 seconds before each call with options to join, dismiss, or snooze the alert with one touch.
Communicate with Meeting Attendees – Quickly and easily email or text meeting attendees with standard messages like, "I'm running late" or "Are we still meeting?" or even a custom message.
MobileDay is a free mobile business app available now for iPhone and Android smartphones.
About MobileDay
MobileDay provides one-touch access to any meeting from your smartphone, no matter where you are or what you're doing. MobileDay allows the business professional to schedule, access, and manage meetings efficiently, using your preferred web meeting, video- or conference-call service, your email or SMS, and your mobile calendar from one screen. Spend less time dialing and more time connecting with MobileDay.