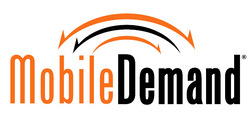 What the xTablet T8700 proves is that you do not have to give up advanced features in order to get the kind of versatility, reliability and ruggedness that lower the total cost of ownership (TOC), and that's what it's all about.
Cedar Rapids, Iowa, USA (PRWEB) March 3, 2008
MobileDemand®, a leading provider of rugged Tablet PCs, today announced full production availability of the xTablet® T8700, the latest installment in their roster of rugged computer solutions built for a variety of vertical markets.
The xTablet T8700 is the definitive Tablet PC for mobile workforces because it offers the unique combination of the industry's highest performance, extensive data collection capabilities, and military-rated ruggedness. Also, the device is one of the few in the industry capable of supporting Windows Vista.
Tablet PC videos available on the MobileDemand web-site demonstrate the harsh conditions the xTablet T8700 is able to sustain. In the videos, this rugged computer takes a licking going through a car wash, while mounted on the roof of an SUV. In another video, it takes a beating as it is dropped off a cliff and rock pile, tossed around a construction site, and bowled down a city street.
The xTablet T8700 has already generated positive reviews in leading Tablet PC web-sites and journals.
"The xTablet T8700 is a rugged slate computer that's tough enough to handle a significant amount of abuse. That's important when a device is used on the road and mounted in vehicles," said Dr. Conrad H. Blickenstorfer, editor in chief, RuggedPCReview.com and Tablet PC Magazine in a rugged computer review posted in January, 2008. "What the xTablet T8700 proves is that you do not have to give up advanced features in order to get the kind of versatility, reliability and ruggedness that lower the total cost of ownership (TOC), and that's what it's all about."
MobileDemand has carefully taken into consideration the needs of multiple industries in developing this handheld computer. Some of the unique features include:
Industry's Highest Performance
The xTablet T8700 is the most powerful system in the rugged Tablet PC class with an Intel Core Duo 1.2GHz processor and a standard of 2GB of RAM. The uncompromised performance supports both Windows Vista Business Edition and Windows XP Tablet PC Edition.
Military-Tested Ruggedness
This rugged computer is built with a magnesium outer case, designed to withstand harsh environments, repeated drops and other challenges commonly found in outdoor work settings. MobileDemand´s tablets are rated to MIL-STD 810F for ruggedness, IP 65 for sealing and can withstand temperatures of -4°F to +122°F (-20°C to +50°C).
Data Collection Versatility
Mobile workforce data collection is easy with this full-screen Windows Tablet PC, which includes an integrated numeric keypad, bar-code scanner and credit card reader options. These features are particularly conducive for use in food and beverage distribution, warehousing, manufacturing as a shop floor data collection device, field service, hospitality, and retail line busting including retail in-store mobile point of sale (POS).
Sunlight Readable Display
The xView™ sunlight readable display dramatically increases the ability to see the screen of the xTablet in varying lighting conditions, from indoors to direct sunlight.
Solid State Drive Support
With capacities of 16, 32, or 64GB (and beyond), the xTablet T8700 supports solid state drive as an option for better reliability, 30 percent faster performance in boot times, program loads and data access, and up to a 10 percent increase in battery life.
Multiple Battery Options
The xTablet T8700 comes with multiple battery options , including long lasting, high-capacity batteries that will provide enough power for an entire shift, a "hot swappable" battery, belt and cart-mounted external batteries and finally car adapters.
In his review of the xTablet T8700, Rob Bushway, editor in chief of GottaBeMobile.com and a Microsoft Tablet PC MVP (Most Valuable Professional), praised the product for its versatile data entry methods.
"This is a Tablet PC built for the vertical market - truck drivers, delivery personnel, construction, field-force workers, and more. The integrated keyboard and optional barcode reader make it a natural for taking inventory in places like beer coolers, food freezers, and more" said Bushway.
In reference to the GottaBeMobile InkShow Tablet PC Review of the xTablet T8700 model, Bushway further said "When you see the damage we tried to inflict on the xTablet T8700, you'll come away quite impressed. I know we were."
The xTablet T8700, which will retail for $3,795, is available immediately. For an online product tour of the xTablet T8700, please visit http://www.RuggedTabletPC.com and contact MobileDemand to sign up for the free evaluation and test program.
MobileDemand offers rugged Tablet PCs for a variety of vertical industries that provide a lower total cost of ownership over non-rugged computers; supported by actual customer experience and factual independent research. MobileDemand elevates itself by uniquely offering the combination of a total complement of mounts and accessories, flexibility built into their systems, superior and personalized customer service, and customer focused engineering – all to help customers best satisfy their mobile computing needs. Additional information is available on the Internet at MobileDemand's web-site.
MobileDemand, xTablet, and xView are registered trademarks or trademarks of MobileDemand, LC. All other brands, products, or service names are or may be trademarks of their respective owners.
Contact:
Inga Beyer
MobileDemand Public Relations
ibeyer @ hrb-ideas.com
Tel: 319.298.0242 x227
# # #