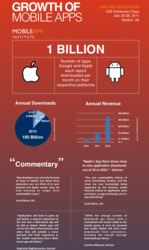 The gap between mobile development needs and experienced mobile developers is becoming wider and more critical than ever. The key is to cross-train developers working in other languages.
Reston, VA (PRWEB) July 06, 2011
The Mobile App Institute today announced a new one-week session to help programmers experienced in languages like Ruby, Python, C++, C# and others become proficient mobile developers
Despite escalating salaries reaching beyond six figures and plentiful jobs in many dynamic industries, the gap between the number of available mobile development positions and the number of trained mobile developers appears to be widening.
While this fact has been documented several times in the past few years, few efficient solutions have been identified.
In an attempt to address this need, the Mobile App Institute of Reston, VA, talked to more than a hundred developers before concluding that the most efficient solution lies in cross-training programmers experienced in other languages such as Python, Ruby, C++, C# and others.
That premise underlies the development of the intensive five-day course, iOS Immersion, that was announced today. The course is designed for developers experienced in modern programming languages and interested in learning mobile application development and building their first app.
CLOSING THE MOBILE DEVELOPMENT GAP
"The gap between mobile development needs and experienced mobile developers is becoming wider and more critical than ever," said Joseph Mortati, CEO of GTG Consulting, a sponsor of the course. "This course is targeted at developers who want to accelerate their knowledge and get hands-on experience building an app right away."
Offered July 25-29 in Reston, but open to programmers from around the world, the Mobile App Institute course will be taught by developers who have created and distributed successful mobile apps. The Reston course will focus on the Apple iOS 4 and new iOS 5 platforms.
"This class is designed for experienced developers to build an actual app during the week," said Firoze Lafeer, Chief Technology Officer of OneWhitePixel, a sponsor of the Mobile App Institute and a senior institute instructor. "We know through research this is what developers most want, and yet no other curriculum we've found offers a true hands-on approach to learning." Lafeer will teach the Reston course. His experience includes the development of 10 apps around the world, including award-winning apps for the U.S. Government, social media companies, a surfing publisher and Dutch healthcare organizations.
APPLE iOS5 INCLUDED IN CURRICULUM
The course covers iOS4 and Apple's recently announced iOS5. Attendees will leave class knowing the fundamentals of Objective-C as well as:
•        Understanding the anatomy of an iOS Application
•        Fundamental user interfaces using UIKit
•        Finding and mapping locations using CoreLocation and MapKit
•        Accessing back end database via web services
•        Building apps that store content and data (key/value pairs) in iCloud
•        New automatic reference counting in iOS5
•        Common debugging tasks, how to read crash reports
COST & LOCATION
Unlike other mobile development program, the Mobile App Institute makes developing an actual app an integrated part of the curriculum. Tuition for the five-day course is $3,495 per person. Companies registering three or more developers receive a 15% discount on their third and subsequent students. Payment options are available and MacBooks are available for rental for an additional fee.
The course includes lunch every day and is ideally located in the Reston Town Center, just 10 minutes from Dulles International Airport. Free parking, stores, restaurants and hotels are all within blocks of the training facility.
 
COMPANY INFORMATION
The Mobile App Institute is co-sponsored by OneWhitePixel, a global mobile applications development company and GTG Consulting, a consulting and training firm that serves as the bridge between business and IT. Courses are taught in iOS for the Apple platform and Google's Android operating system. Future courses are planned for developers interested in HP's Web OS, Blackberry's new QNX platform and Microsoft's Windows Mobile 7. They will be held throughout the U.S. and Europe. For more information or to download the course brochure and curriculum, go to the Mobile App Institute website. Registration is online at http://mobileappinstitute.eventbrite.com, or contact GTG Consulting at 703-328-5886 or email us at info(at)mobileappinstitute(dot)com.
###