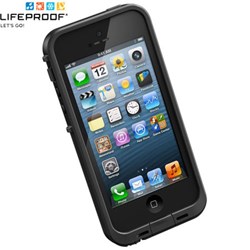 Manufactured to meet both US and UK military standards, the LifeProof iPhone 5 case is truly indestructible
Birmingham, West Midlands (PRWEB UK) 29 October 2012
Mobile Fun, the UK's leading online retailer of mobile phone accessories are pleased to announce that they'll soon be receiving stock of the LifeProof Indestructible Case for iPhone 5. Manufactured to protect the iPhone 5 from anything Mother Nature has to throw at it, the LifeProof case truly is indestructible.
Using the LifeProof iPhone 5 case allows the user to take the iPhone 5 with them on experiences they never would have dreamed of, from skiing to swimming. Being one of the only iPhone 5 manufactured to both UK and US military grades, the LifeProof case has a full IP-68 rating against water and dust, assuring users that it'll completely protect the iPhone even in the most extreme of conditions.
Not only protective but also extremely sleek, the LifeProof Indestructible iPhone 5 case only adds 1.5mm of thickness to the slim smartphone; helping to remain in keeping with the style and design of the Apple handset. The design of the case also adds grip, ensuring that those butterfingers moments remain at a minimum.
Waterproof in its design, the LifeProof case means that the iPhone 5 can be taken up to 2 metres under water, thanks to the AR-coated iPhone 5 screen protector which is built into the case. This allows videos and images to be recorded like never before, so new holiday moments can be created which last forever.
In order to keep the entire iPhone 5 protected, the LifeProof case uses plugs to protect the ports of the iPhone when they aren't in use, but still assures that they are fully accessible. This means that ports such as those for the iPhone 5 charger are always easy to access without removing the case, so the iPhone remains damage free whilst being used.
Protective without adding bulk to the slim iPhone 5, the LifeProof Indestructible Case is available to pre-order now from Mobile Fun.
-ENDS-
About Mobile Fun
Birmingham based Mobile Fun is the UK's leading online retailer of mobile phone accessories, sim free phones, ringtones and mobile java games. Mobile Fun has offices in the UK, USA, Spain, France and Germany and ships to over 50 countries worldwide. Mobile Fun was named 'Online Retailer of the Year' at the Mobile News awards 2012 for the second year running and was ranked 6th in the Experian Hitwise Top 10 websites of 2010.