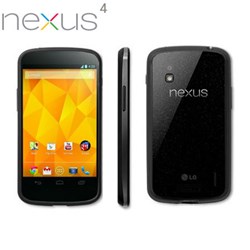 Already a sell-out success, the Google Nexus 4 is proving to be extremely popular.
Birmingham, UK (PRWEB UK) 22 November 2012
Mobile Fun the UK's leading online retailer of mobile phone accessories have sourced a range of Google Nexus 4 accessories to help keep the smartphone both protected and looking newer for longer.
Selling out in hours upon its release, the Google Nexus 4 has proven to be highly popular thanks to its small price tag and impressive features. A white version of the handset has already been rumoured too, suggesting the popularity of the Nexus 4 shows no signs of slowing down.
Some of the great features of the Nexus 4 are that it supports wireless charging; has an impressive 8MP camera complete with panorama and it runs Android Jelly Bean operating system. All of this is housed in a handset with a 4.7" display and a Snapdragon CPU, meaning that tasks are completed quickly and with ease.
Like all handsets however, the Nexus 4 needs protecting from daily damage caused by bumps, drops, scrapes and scratches. This is where a Nexus 4 case comes in, with Mobile Fun already sourcing cases from a range of brands including Flexishield.
The Flexishield Nexus 4 cover offers durable protection to the handset so that it remains looking fresh out of the box for longer. Thanks to its slim design, the case doesn't deter from the design of the Nexus 4, instead it enhances it and fits the phone like a glove.
What's great about the Flexishield cases though is that they're perfect for both work and social and allow full access to all the ports and features of the Nexus 4, so that the case doesn't need to be removed for the phone to be used. This means that the camera port and Nexus 4 charger port are always accessible and that the smartphone is always protected.
The Flexishield case for the Google Nexus 4 is available to pre-order now at Mobile Fun, along with the Genuine Nexus 4 bumper and cases from Krusell.
-ENDS-
About Mobile Fun
Birmingham based MobileFun.co.uk is the UK's biggest online retailer of Mobile Accessories, Mobile Phones, Ringtones and Mobile Java Games.
Mobile Fun has offices in the UK, Germany, Spain and France and delivers products to over 50 countries worldwide
Mobile Fun were recently named the 'Best Accessory Retailer' 2012 at the What Mobile Awards and won the title of Online Retailer of the Year at the Mobile News Awards 2012 for the second year running.