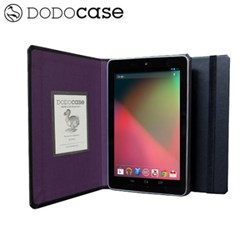 Though to be under a lot of trees this Christmas, the popularity of the Nexus 7 shows no sign of waning.
Birmingham, West Midlands (PRWEB UK) 7 December 2012
UK online retailer Mobile Fun have sourced a wide range of Nexus 7 cases to protect the newly released 32GB version of the Google tablet, as well as the old 8GB and 16GB variations. The available cases aim to protect and enhance the features of the Nexus 7 so that it remains looking newer and fully functioning better for longer.
The first Nexus 7 device was released in Summer this year: it was the small tablet with big specs and a small price tag, making it no surprise that the device was such a success with both Android fans and tablet users all over the world. With the announcement of the Nexus 4 smartphone and Nexus 10 tablet came the new Nexus 7 complete with larger memory space, 32GB to be exact. This device is expected to sit under a lot of Christmas trees this year, so protection for it is of the highest importance.
One of the most popular Nexus 7 case styles available is the DODOCase HARDcover, a handmade book style cover which is manufactured in the heart of San Francisco. The DODOcase adds an air of class and sophistication to the Nexus 7, offering complete protection from daily damage caused by bumps, drops and scratches.
The DODOcase HARDcover for Nexus 7 uses a clever adhesive to hold the Nexus 7 in place which doesn't leave any residue. This adhesive means that the Nexus 7 is securely held without any areas of the case covering any of the ports or features of the tablet. Everything is fully accessible and the Nexus 7 is fully protected.
There's two very clever features of the DODOcase which explain its popularity. The first is that it supports the sleep function of the Nexus 7 to both help save battery and allow to quickly be picked up and paused. The second feature comes from the elasticated band: this band holds the case together when the Nexus 7 isn't being used, but then doubles up as a stand for the tablet, allowing it to propped up to view media and complete work in more comfort.
Highly reviewed and highly praised, the Nexus 7 DODOcase HARDcover is available now from Mobile Fun.
-ENDS-
About Mobile Fun
Birmingham based MobileFun.co.uk is the UK's biggest online retailer of Mobile Accessories, Mobile Phones, Ringtones and Mobile Java Games.
Mobile Fun has offices in the UK, Germany, Spain and France and delivers products to over 50 countries worldwide
Mobile Fun were recently named the 'Best Accessory Retailer' 2012 at the What Mobile Awards and won the title of Online Retailer of the Year at the Mobile News Awards 2012 for the second year running.