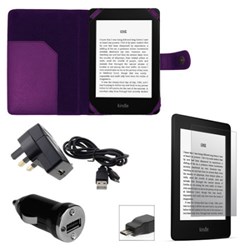 The brightest Kindle available, use the Gift Pack to keep the Kindle Paperwhite shining bright.
Birmingham, West Midlands (PRWEB UK) 24 November 2012
The Kindle Paperwhite is the brightest Amazon e-reader to be released, allowing readers to continue reading in all light conditions, no matter where they are. To help keep the e-reader looking newer and fully juiced Mobile Fun have received stock of the Kindle Paperwhite Gift Pack.
Containing five must-have Kindle Paperwhite accessories the pack includes: a book style case, screen protector, USB cable, mains charger and in-car charger. These accessories work together to ensure that the Kindle Paperwhite remains looking newer for longer and is always charged for when it's needed.
The included Kindle Paperwhite cover fully protects the Paperwhite from daily damage caused by bumps, drops, scrapes and scratches. It holds the Kindle in place with four elasticated tabs, so that all the ports and features still remain free and the Kindle can be used without anything obstructing it. The cover also has an interior pocket for papers, tickets and notes to be stored and easily accessed and uses a magnetic closure, so that the Kindle remains in place and the screen doesn't become damaged.
To help protect the display of the Kindle further is a Kindle Paperwhite screen protector. Simple to apply, the screen protector stops any damage to the display from dust and dirt, whilst ensuring no messy fingerprints litter the display. It can be used with a Kindle Paperwhite case too, so that the e-reader is 100% protected.
The final three accessories in the Gift Pack all aim to keep the Kindle Paperwhite fully juiced, whether it be at home with the mains charger or on the road with the in-car charger, The included USB lead can also be used to sync the Kindle Paperwhite too, so it's a handy spare cable to have around.
A great Gift Pack for those expecting a Kindle Paperwhite for Christmas, the Kindle Paperwhite Gift Pack is available now from Mobile Fun in either black or purple.
-ENDS-
About Mobile Fun
Birmingham based MobileFun.co.uk is the UK's leading internet retailer for "everything first"; offering a range of mobile phones, mobile phone accessories and tablet accessories.
Mobile Fun has offices in the UK, USA, Spain, Germany and France and delivers products to over 50 countries worldwide.
Mobile Fun were recently named the 'Best Accessory Retailer' 2012 at the What Mobile Awards and won the title of Online Retailer of the Year at the Mobile News Awards 2011 and 2012.