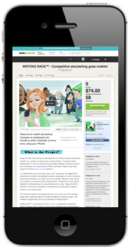 "We want people, especially teens, to have a fun and exciting way to re-engage 'real writing' in their lives...and the best way to do that is through a mobile game," Eric Thiegs, StageofLife.com CEO and Founder.
York, PA (PRWEB) December 20, 2012
Stage of Life® is launching the development of an iPhone game, Writing Race™, to extend its writing and literacy mission to millions of people, across all generations, using the mobile phone. Pending a successful crowd sourcing campaign launched on Kickstarter, Writing Race™ will be made available in the summer of 2013. To get the in-depth details and explore the main features of the project, visit the Writing Race™ Kickstarter page for this mobile literacy game.
In a world where many people text, tweet, and "Facebook," StageofLife.com Founder, Eric Thiegs, realized that literacy and writing were taking a backseat to shorthand communication methods.
"We have High School Language Arts teachers who contact us with stories of students using 'text-speak' in their research papers or literary essays. As an educational resource, we wanted to help combat this trend by building a mobile game in which writing in full sentences and storytelling are the core activities. We want people, especially teens, to have a fun and exciting way to re-engage 'real writing' in their lives, whether they're on the go or at home. And the best way to do that is through a mobile game," says Thiegs.
Writing Race™ takes storytelling and places it in a fast-paced setting. Players will take turns with friends to write a story on their mobile phones three words at a time--only they must do it as quickly as possible. The story mechanics can't be sacrificed, and spelling is an essential part of the scoring system. Players will test their wits and exercise free thinking as they write a story, turn by turn, under the pressure of a clock that encourages "think-on-your-feet creativity," says Nate DeRose, Stage of Life's literacy game intern.
For writers less interested in the scoring mechanics of the game, Writing Race will also have a "free write" mode in which timers and scores are turned off, allowing friends to write collaboratively instead of competitively.
Writing Race™ is a product of Stage of Life® - a grassroots writing and literacy initiative with a mission to encourage people across all generations, from teens to Baby Boomers, to become life-long readers and writers. StageofLife.com provides a free online life journal and blogging community to anyone who wants to help make the world a better place through reading and writing.
Since its launch in April of 2009, StageofLife.com has welcomed over 418,000 unique visitors who have uploaded over 11,000 personal stories, essays, and posts containing over 5.5 million words - resulting in over 1.2 million page views. In recent months, due in part to its teacher, teen, and college student traffic, StageofLife.com has welcomed over 40,000 mobile visits to the website. It was this increasing traffic trend, coupled with the way teens are currently communicating, that caught Thiegs' attention and helped bring the concept for Writing Race™ into focus.
For more on this story and the Writing Race mobile game, please contact:
StageofLife.com
Literacy and Writing Mobile Game – Writing Race™
http://kck.st/UfQ67U
Nate DeRose, Writing Race™ Coordinator
nate.derose (at) stageoflife (dot) com
24 S. Franklin St.
Dallastown, PA 17313
(717) 244-0006