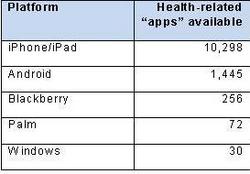 The longer regulated treatment providers wait to enter this marketplace, the more difficult it will become to influence and reach their target audiences.
Saint Louis, MO (PRWEB) October 22, 2010
A recent study by the Pew Internet Project reveals that 17 percent of cell phone owners use their phones to look up health or medical information and nearly 10 percent have added software applications ("apps") to help them track or manage their health.
This translates to nearly 50 million users looking for health and medical information on mobile devices, and 30 million who take the extra step of downloading "apps" to access and update personal health information, based on usage stats from wireless industry trade group CTIA.
Despite the size and growth rate of this mobile health marketplace, regulated treatment providers—such as pharmaceutical and medical device companies—are largely absent, according to v-Fluence Interactive research. Key findings include:

iPhone / IPad platform applications dominate health application development in terms of volume and diversity of offerings. However, apps developed for professional healthcare providers and other niche users are found on Blackberry, Palm and other platforms.
Diet and fitness "apps" dominate these numbers; however, the past year has seen hundreds of new applications in therapeutic-specific categories including mental health, cardiovascular disease, respiratory illness and oncology.
Despite this growth, few pharmaceutical or medical device companies have launched "apps" in these spaces. The result: They are dominated by advocacy groups, OTC or alternative health product promoters and healthcare publishers.
"The implication for regulated treatment providers is clear," says Jay Byrne, president of v-Fluence Interactive. "The longer they wait to enter this marketplace, the more difficult it will become to influence and reach their target audiences, given the breadth and depth of competing interests in these spaces."
About us: v-Fluence Interactive's (http://www.v-fluence.com) health practice group comprehensively tracks health policy and therapeutic specific issues on the Web with trained analysts and full regulatory reporting compliance support. Our dedicated health practice team has provided research, counsel and online outreach support to a wide range of major pharmaceutical brands, academic organizations, consumer product companies and advocacy groups. For more information, contact us at (877) 835-8362 or info(at)v-Fluence(dot)com.
###