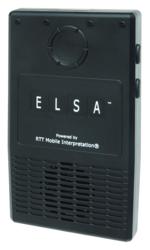 "With the increasing need for organizations to communicate with a limited English proficient (LEP) population, our ELSA device bridges the language gap with a highly sophisticated, yet simple to operate platform"
Minneapolis, MN (PRWEB) April 23, 2013
RTT Mobile Interpretation (RTT), a leading provider of mobile language interpretation products and services, is excited to announce an exclusive distribution agreement with Alabama based JRG Consulting Services, LLC (JRG). JRG, led by John Grove, will aggressively expand distribution of RTT''s ELSA™ (Enabling Language Services Anywhere) solution. ELSA, the vision of Charles Howerton, RTT's founder, allows mobile, real-time language interpretation via live interpreters in over 180 languages.
"With the increasing need for organizations to communicate with a limited English proficient (LEP) population, our ELSA device bridges the language gap with a highly sophisticated, yet simple to operate platform," said Grove. "I'm honored to lead the strategic sales effort carrying forward the mission to close communication barriers for these expanding segments of society and commerce."
"John is a valuable addition to our leadership team and comes to us at a time when demand for our solution is growing rapidly," said John Dennis, RTT Board Member. "With his significant depth in this field, John is the right person to guide our market expansion and spearhead partnerships that will help RTT consistently deliver a world-class, game changing product to our customers nationwide."
Grove brings more than 20 years of experience in business development, sales and strategic partnership alliance; helping companies successfully introduce their systems to new and broadening markets.
About RTT
RTT Mobile Interpretation is an innovator of mobile, real-time language interpretation via live interpreters. RTT's flagship product ELSA, is being used by police, fire, EMS, county and state offices, hospitals, clinics, hotels, schools and many others. Founded in 2007, Real Time Mobile Translation, Inc., dba RTT Mobile Interpretation, is a privately held company located in Minneapolis, MN. For further information please contact:info(at)rttmobile(dot)com or visit our website at http://www.rttmobile.com.
About JRG
JRG Consulting Services, LLC is a Birmingham, AL based consulting firm with an emphasis of building strategic partnerships and alliances to market service offerings in diverse industries. Our affiliates bring decades of sales experience in channel distribution. For information regarding the purchase of ELSA, or to be considered as a distributor, please call 205-910-6929 or email Jgrove(at)rttmobile(dot)com