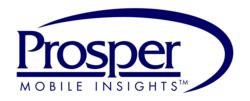 Free Shipping, Coupons and Free Gifts Most Likely to Encourage Mobile Purchasing
Worthington, OH (PRWEB) December 05, 2012
Not only will holiday shoppers be using smartphones and tablets for "showrooming" this holiday season—many also plan to make purchases directly from their devices. Just under half of Mobile Users (45.0%) say they are somewhat or very likely to make a purchase this holiday season using a mobile browser or app, according to a recent analysis from Prosper Mobile Insights™. Fewer (34.2%) say they are likely to swipe or tap their device to pay for a transaction in a store. However, it appears that Apple® iOS Users, those with iPhone or iPad devices, might be slightly more likely to utilize mobile payments for holiday purchases:
Somewhat/Very Likely to Swipe/Tap Device to Pay In-Store
iOS: 37.7%
Android: 32.9%
Somewhat/Very Likely to Purchase Via Mobile Browser/App
iOS: 48.4%
Android: 46.5%
Source: Prosper Mobile Insights™ Mobile Survey, Nov-12
For the full, complimentary report, click here.
For retailers wanting to boost mobile sales this holiday season, Mobile Users say free shipping, coupons and free gifts with purchases would be likely to entice them to buy using a smartphone or tablet:
"What would entice you to make a purchase via mobile this holiday season rather than buying in-store or online using a computer?" (Mobile Users)
Free shipping: 57.7%
$ off coupon: 47.7%
% off coupon: 38.7%
Free gift with purchase: 36.9%
Next day shipping: 21.6%
Hold item for store pick-up: 13.5%
-----
Nothing would entice me; I don't plan to make mobile purchases: 21.9%
Source: Prosper Mobile Insights™ Mobile Survey, Nov-12
According to Shop.org, free shipping was a big hit for online retailers during Thanksgiving weekend and Cyber Monday, and it looks like this tactic has the potential to lure in mobile holiday shoppers as well throughout the season.
"Avoiding the hustle and bustle of in-store shopping as well as the cost of having the perfect gift shipped to your door is a win-win for holiday shoppers," said Pam Goodfellow, Consumer Insights Director, BIGinsight™. "While Mobile Users tend to be seen as trend-setters, their affinity for free shipping implies that this is a promotion likely to stand the test of time."
For help with holiday shopping, most Mobile Users (64.6%) will turn to Amazon's app, while apps from eBay (31.5%) and Groupon (17.7%) also appear popular. RetailMeNot appears more popular among Apple Users (13.9%) compared to Android Users (8.8%).
When searching for deals through social media on a smartphone or tablet, most Mobile Users (53.5%) turn to Facebook. Android Users (58.2%) seem especially prone to search this social network during the holiday season compared to iOS Users (46.7%). However, Apple aficionados are more likely to be searching pin boards for gift ideas: 13.9% with an iOS device plan to use Pinterest compared to 8.2% of those with Android-based devices.
Besides shopping, what other merry mobile activities are smartphone and tablet users accomplishing with their devices this year? Find out at the BIG Consumer Blog - Battle of the Sexes: Merry Mobile Activities
For more insights on how consumers are using smartphones and tablets, download the Prosper Mobile Android™ Tablet App or install the Apple® Web App. You can also access the online Prosper Mobile InsightCenter™, updated monthly with fresh insights and mobile consumer trends.
About Prosper Mobile Insights™
Prosper Mobile Insights provides companies with advanced cloud-based technology-driven solutions delivered via multiple devices (PC/Tablet/Smartphone) from the Prosper Mobile InsightCenter™. This decision center provides a comprehensive view of how consumers are using mobile devices including smartphones and tablets. The insights illustrate how consumers are engaging with digital media, including ownership, purchase intentions, activities, usage, service, influence, and ultimately how new technologies are reshaping consumers' lives. The November mobile survey included 333 smartphone and tablet users from the SSI Panel who completed the survey on their devices. The survey was collected from 11/19 – 11/26/12 and the margin of error is +/- 5.4%. Prosper Mobile Insights™ is a trademark of Prosper Business Development. http://www.prospermobile.com
Survey Sampling International (SSI)
Bringing together Survey Sampling International and Opinionology, SSI is the premier global provider of world-leading sampling, data collection and data analytic solutions for survey research. SSI reaches respondents in 72 countries via Internet, telephone, mobile/wireless and mixed access offerings. Value-add services include questionnaire design consultation, programming and hosting, data processing and real-time reporting. SSI serves more than 2,000 clients, including the top 50 research organizations. It has 30 offices serving clients around the world.
Contact:
Prosper Mobile Insights™
Chrissy Wissinger
chrissy(at)goprosper(dot)com
Randi Honkonen
randi(at)goprosper(dot)com
614-846-0146
SSI
Ilene Siegalovsky
Ilene_Siegalovsky(at)surveysampling(dot)com
203-567-7230
Android™ is a trademark of Google, Inc.
Apple® is a trademark of Apple, Inc., registered in the U.S. and other countries.
###