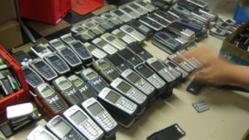 Empty pockets and pillaged piggy banks everywhere
(PRWEB UK) 7 September 2011
With barren wallets, empty pockets and pillaged piggy banks everywhere, it's fair to say that the global economy is currently in a spot of bother. In the time it has taken to write this piece world markets continue to move up and down like a yo-yo, affecting people in all walks of life. (Source: Dailymail )
Across the pond in America the situation is especially grim, with an eleventh hour deal only having been recently thrashed out before the US would have been in danger of not being able to pay its debts, which even so resulted in a reduction in its credit rating.
Growing numbers of people are turning to mobile phone recycling in a bid to stave off the effects of the global downturn. With the banks currently cagier than Battersea Dog's Home when it comes to lending money, inflation soaring and unemployment figures alarmingly high, mobile phone trade-in is a way in which many hard-up Brits can get their hands on some extra cash. They receive the money typically within a couple of days of having re-discovered old mobile phones sitting idly in cupboards and drawers and sending them in to a growing number of recycling companies.
Fonebank, one of the leading recycling companies, estimates that around 90 million mobile phones are discarded and left to gather dust around UK homes. This seems a staggering amount, until it's realised that a brand new mobile phone is purchased every minute in this country (Source: Fonebank).
Despite the flood of depressing statistics regarding a fragile economy, it doesn't seem to have dampened the country's determination to own the very latest in mobile phone technology. Indeed, consumers will go to almost any length to get hold of new products such as the iPhone 4 and the soon to be released iPhone 5.
Mobile phone recycling companies such as Fonebank, Mazuma and Envirofone are urging people to release the monetary benefit from this vast collection of old handsets.
"Many people are unaware how much their old handsets can fetch when recycled," stated Fonebank's Mark Harrison, adding, "To date, Fonebank alone has paid out £35million to those who have recycled their old unwanted handsets through us".
And, it seems to be a trend that's continuing. Whereas people were mainly selling older mobile phones for cash as part of the recession-busting recycling revolution, there's now an increasing number of smartphones coming onto the mobile phone recycling market, some of which can realise quite significant amounts of money.
# # #