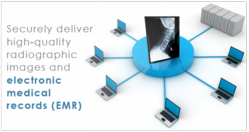 While no one wants a federal government audit, MediMatrix makes it easy for clients to supply all the necessary information Medicare experts want to see.
Ken Kern, MediMatrix VP
Faribault, MN (PRWEB) January 21, 2013
Though Congress decided not to cut Medicare in its vote on the Fiscal Cliff, the federal government still will be tightening the reigns on that insurance plan and the fraud often linked to it. That's why many mobile radiology companies filing for Medicare reimbursements need to be aware that even the slightest discrepancy could be a flag for an audit. If the government zeroes in on a particular business, that company won't be able to avoid a Medicare audit. But there are ways to help mobile radiology businesses from becoming a target in the first place. Ken Kern, Vice President of MediMatrix, reveals today his top 3 tips for mobile radiology businesses to avoid a Medicare audit.
MediMatrix's top 3 tips for avoiding a Medicare audit:
1. Accuracy is Key
First, when filing for Medicare Part B reimbursements, make sure radiology billing reports are 100% thorough and accurate. Whether performing an X-ray, ultrasound or heart study, be sure to use the proper coding that best describes the services provided.
Document patients' electronic medical records (EMR) with detailed descriptions of all procedures performed based on the patients' symptoms, conditions, illnesses or injuries.
Don't forget to include the National Provider Identifier (NPI) number. The Centers for Medicare and Medicaid Services issues this unique 10-digit identification number to all health care providers in the United States. It's critical for accurate billing and once assigned, this number stays with the company permanently.
Make sure the patient's Medicare eligibility is verified.
2. Check Credentials
When operating a portable radiology business, make sure to work with reputable partners. Ensure that the professionals ordering the procedures and reading the DICOM images have the proper state credentials to do so. Without second-guessing the physician's orders, do be certain the procedure called for is exactly what's needed. If the patient's condition or injuries don't appear to require the procedure the ordering doctor wants, Medicare could question it. Remember, they look for even the slightest discrepancy, so provide thorough documentation.
3. Know Medicare Procedures
Medicare professionals considering requests for reimbursements can easily detect shoddy paperwork. If need be, revise systems so that everyone who has access to financial records knows every code and number Medicare requires. Review the rates and know what benefits the patient can receive. If someone else is filing Medicare paperwork, consider taking a little extra time to train those employees or to refresh them on the government's changing regulations. When dealing with the federal government, on-the-job training may not be the best course of action.
Following these tips could help mobile radiology businesses avoid a Medicare audit, but again, there's no guarantee. MediMatrix business solutions for teleradiologists provide 100% transparency. While no one wants a federal government audit, MediMatrix makes it easy for clients to supply all the necessary information Medicare experts want to see.
About MediMatrix
MediMatrix is a practice management service designed for the mobile medical industry. It has a long-standing history of developing web-based solutions for portable radiology technologists who provide X-ray and ultrasound services to nursing homes, homebound patients, urgent care centers and correctional facilities. The innovators at MediMatrix are continually upgrading their web application services to stay a step ahead of the changing technology. MediMatrix serves portable radiology customers all across the United States.