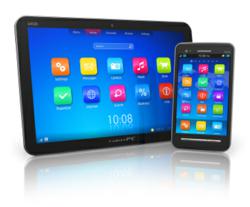 Mobile can no longer be considered as just an option. It is very much here to stay and will play a major part in recruitment going forward.
(PRWEB) August 02, 2012
The Mobile Recruitment Conference was announced today by Mike Taylor from Web Based Recruitment. The conference will take place in London on Tuesday 23rd October 2012.
Web Based Recruitment ran the world's first ever conference covering Mobile & Video in Recruitment in September 2010 and for 2012 this new Conference will concentrate solely on the fast growing area of Mobile Recruiting.
Mobile Is Changing Recruitment
"The interest and demand for mobile recruitment knowledge has grown significantly since our first Mobile & Video in Recruitment Conference which means that this year's Conference will focus totally on Mobile Recruiting and the increased number of marketing options that are becoming available" commented Taylor.
"Just like social media a few short years ago, Recruiters and businesses want to learn more about mobile and it can be applied from a recruitment perspective. With the increasing number of smart phones and tablet devices being purchased, job seekers are expecting to view jobs and company information literally anytime, anywhere on any type of mobile device. Therefore, by not having a mobile recruitment strategy in place Recruiters will be restricting the number of job seekers who will be able to see their company information and current job vacancies" continued Taylor.
Conference Programme:
The Conference programme will feature a quality line-up of speakers with case studies and plenty of time for questions. Some of the subject areas to be covered on the day will include:
Putting Mobile First – Planning a Mobile Recruitment Strategy
Mobile Recruiting Case Studies
Using QR (Quick Response) Codes and Location Based Services in Recruitment
Creative use of Mobile Marketing in Recruitment
Latest Mobile Trends and Future Insights
Creating Mobile Videos for Recruitment
Mobile Recruitment Discussion Panel
By the end of the conference delegates will have learnt the impact that mobile is currently having in recruitment, how it will develop in the future and how they can start to implement mobile strategies to gain an advantage in their own business.
"Mobile can no longer be considered as just an option. It is very much here to stay will play a major part in recruitment going forward. So join us in London on the 23rd October 2012 to find out how your company can benefit from using Mobile in Recruitment" concluded Taylor.
Exhibition Area & Sponsorship:
In addition to the conference there is also an exhibition area where delegates will be able to talk to companies and see demonstrations of various mobile related products and services. Any company interested in getting involved as a sponsor or exhibitor at the 2012 Mobile Recruitment Conference should contact Mike Taylor through the conference website.