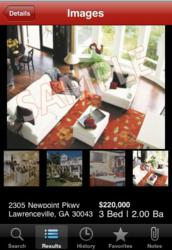 We're really starting to see how much mobile traffic we can generate and are finding new ways to reach and connect with consumers through their smart phones.
Lawrenceville, GA (PRWEB) November 02, 2011
More and more consumers are using their phones to search for a place to live as more marketers embrace mobile tools such as QR (Quick Response) codes, text codes, location based searches, mapping, and mobile enabled websites.
Network Communications, Inc., publishers of The Real Estate Book and Apartment Finder magazines and websites recently launched mobile enabled versions of their websites, apps and new mobile marketing tools within the magazine's printed pages, increasing online activity, searches and consumer response to their advertisers.
Because finding a home is largely based on location, location, location, the ability to search in close proximity to one's physical location and the ability view more information at any place or time make mobile tools particularly relevant.
Mobile versions of ApartmentFinder.com and RealEstateBook.com launched earlier this year. Both sites have seen mobile traffic jump over 200% over the past 3 months. Currently, mobile search account for over 16% of apartment searches and approximately 8% of residential real estate searches for NCI, but the sites are still relatively new and traffic and response has been growing monthly. Visitors convert to leads at almost twice the rate of web based searches.
"We're really starting to see how much mobile traffic we can generate and are finding new ways to reach and connect with consumers through their smart phones," says Rebecca Chandler, Vice President of Marketing. "They now have the basic expectation that they can surf your site on their phones in a logical and rewarding way. Our advertisers are reaping new benefits."
NCI expects continued rapid growth as they incorporate more offline triggers to mobile resources. "Placing a QR code or a text code on a sign or on a printed page leads the consumer to the mobile version of the site," says Chandler. "Simply having the mobile marketing tool is really much less effective without the offline response trigger. Just because you build it does not mean they will find it. We are seriously ramping up those efforts."
Recent research indicates the quickening pace of mobile adoption. A study conducted by comScore, Inc. indicates that 73% of local searches are performed through mobile web browsers, and more than 48 million mobile users accessed maps on their device in May 2011, marking an increase of 39 percent from the previous year.
Nielsen Research also recently released compelling information stating that in June of 2011, time spent on mobile apps and sites surpassed time spent surfing web sites on a laptop or desktop computer and the prediction that by 2013, more people will own smart phones than personal computers or laptops.
Network Communications, Inc. is a leading local media company providing lead generation, advertising and Internet marketing services to the housing industry. The Company's leading brands are Apartment Finder, The Real Estate Book, Digital Sherpa, Unique Homes, New England Home and Atlanta Homes & Lifestyles. NCI has market representation in more than 500 local markets around the United States. The Company's strategy focuses on providing high-quality and measurable marketing solutions to local clients by leveraging its proprietary prospect-focused distribution and content management infrastructure. NCI distributes more than 9.4 million local print catalogs of apartments for rent and homes for sale every month through more than 300,000 distribution points; NCI's websites are leading Internet destinations for consumers looking for homes to rent or buy, with an average of 2.0 million unique users every month; and it provides Internet marketing services using social media tools to its customers.
# # #