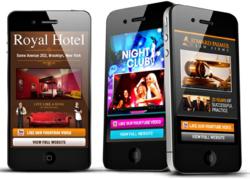 (PRWEB) January 31, 2013
Online presence is important for small and local businesses in Austin and other cities. A website is one of the first methods for consumers to discover businesses or services that they are looking for. The number of mobile devices are steadily increasing every year, and smartphone owners are using their gadgets to browse online. Due to the continuing trend of increasing internet usage through smartphones and tablets, businesses are looking for ways to ride this craze. Padebuen Web Services can now help businesses in Austin and other cities with its mobile website design solutions.
An infographic and more statistics can be found at http://padebuen.com/small-business-mobile-website/.
Padebuen Web Services offers a solution to the problem of small and local businesses involving websites not properly shown on smartphones and tablets. Brick and mortar business owners need to know the important role of smartphone-friendly websites in generating more sales and getting new clients. Many businesses still don't have a mobile-friendly site.
Some more reasons for businesses in Austin and other cities to have a smartphone and tablet friendly site:

Mobile websites lead to purchases.
Shoppers can just go to other sites if a website is not smartphone-optimized.
Bad mobile experience can ruin a brand's reputation.
Padebuen Web Services builds mobile websites that have the following features:

The site contains automatic smartphone device detection and redirection.
The site loads fast on smartphones or tablets.
The site has a click to call functionality.
The site has a click to navigate functionality to find the location of a business.
Text on the site can be read easily without excessive scrolling or zooming.
Buttons and links are thumb-friendly.
No Flash - Flash don't display on iPhones.
Businesses owners can adapt with the mobile trend to increase its profits. Their websites should display properly when viewed on smartphones and tablets to get more leads and clients. They can lose customers if their site is not optimized for small screen displays.
Padebuen now offers free mobile website mock-up at http://padebuen.com/mobile-website-mock-up/.