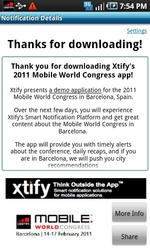 "We are seeing more and more brands integrate Xtify's smart notifications into their existing mobile apps and immediately boost the performance and ROI of their overall mobile marketing programs," said Josh Rochlin, Xtify CEO.
New York, NY (PRWEB) February 14, 2011
Xtify, Inc., a leading provider of location-based marketing technology, today announced the release of its Smart Notifications Platform, the industry's first online tool that deploys push notification campaigns simultaneously on iPhone, Android and Blackberry smartphones. As a more cost-efficient alternative to SMS and email messaging, brands with applications on multiple smartphone platforms can easily configure mobile marketing campaigns that target customers based on location, time, past user behavior and other criteria. The announcement was made today at the 2011 Mobile World Congress in Barcelona, Spain.
Xtify's smart notifications are visually rich messages sent directly to a consumer's smartphone based on rules that marketers define, such as time of day, previous responses to campaigns, and proximity to retail locations, restaurants and events. Xtify is the only provider of location-based push messaging and cross-OS push messaging for mobile applications.
"Marketers have begun to realize that the advent of smartphone applications and the push notification channel provide a low-cost and effective means of sending customized messages to their mobile audience. The ability to deploy highly targeted, location-based mobile marketing campaigns in a single web-based interface is a mobile marketer's dream," said Josh Rochlin, Xtify CEO. "We are seeing more and more brands integrate Xtify's smart notifications into their existing mobile apps and immediately boost the performance and ROI of their overall mobile marketing programs."
The Xtify Smart Notifications Platform offers mobile marketers several key advantages:
-Higher quality, lower cost – Deliver visually rich messages without the per-message costs, character/size limitations, and extensive approval process associated with SMS, MMS, and email-based marketing. And there are no carrier-related GPS costs because smart notification technology uses the phone's internal locator beacon to persistently know consumer location.
-Message delivery even when the mobile application is closed – The content appears as an alert in the message tray of the customer's phone screen, and can be acted on even if the brand's app has not been opened by the customer.
-Valuable complement to passive check-in services such as Shopkick, Foursquare and Facebook Places – Customers are proactively notified to take a desired action at the time or place in which they're most likely to do so, such as visit a nearby retail location for a special offer, where they can then receive in-store mobile marketing services.
-Smart alternative to daily deal providers – Offer location-based daily deals and flash sales faster and more effectively than using services likes Groupon and Living Social. Brands can target their customers with offers, based on their own marketing rules and campaign timing – and not have to share the revenue and customer information with a second party.
-No need to collect customer phone numbers or email addresses – Once a consumer has downloaded the mobile application and agreed to receive notifications, smart notifications can be sent.
-Keep mobile apps top-of-mind with consumers – One in four mobile apps are used just once. Smart notifications enable brands to proactively send alerts about new app content and features, which drives improved customer engagement, more downloads and incremental revenue.
-Valuable consumer behavior data and analytics – Develop and monitor highly targeted strategic campaigns based on advanced customer behavior data and analytics, including offer response and redemption rates, purchase behavior, location history, completed surveys, and more.
-Seamless integration with existing mobile strategies – Smart notifications can easily be integrated at any point of a mobile marketing campaign. The platform is easy to set up and deploy, with no disruption due to technology implementation. The mobile application developer simply incorporates Xtify's software code into the existing application.
-Easy campaign configuration – The Xtify Notifications Manager is web-based and intuitive, with guides to help marketers design messages and set triggers that help deliver the right message, to the right customer, in the right place, at the right time.
-Real-time campaign performance monitoring – Xtify's real-time reporting and analytics enable instant evaluation of campaigns – for example, know that the customer received the message, what he/she did with it and when will be best to send the next message. Xtify's reporting tools can be easily integrated with existing analytics dashboards, and the Campaign Manager can be configured to establish a view across multiple mobile channels to determine overall effectiveness of campaigns.
About Xtify, Inc.
Xtify, Inc. is a provider of mobile technology that helps brand marketers and content publishers deliver highly targeted information to their mobile customers based on users' preferences, behaviors and real-time physical locations. The Company is based in New York City and founded by Silicon Alley serial entrepreneur Andrew Weinreich and Jeremy Levy. Backed by venture capital firms Acadia Woods Partners and Seventy Six Capital, Xtify leverages a patent-pending technology to efficiently provide marketers and publishers with a unique platform for delivering geo-relevant messages to mobile users. Xtify's platform works worldwide on iPhone, Android, and Blackberry operating systems, with Windows Phone 7 to come. Learn more at http://www.xtify.com.
# # #