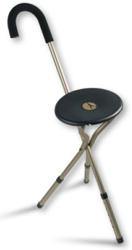 Whatever you decide to get for your loved ones this holiday season, we wish you all very happy holidays
Ashton, MD (PRWEB) December 21, 2012
Holidays are a lot of fun, but they're also a lot of work. Finding the right presents for your loved ones can be challenging, especially if they're elderly. That's why JustWalkers.com has launched a new Gift Ideas page for the holiday season.
"Around the holidays, we typically see the sale of mobility devices remain about the same, but the sale of accessories increase greatly," says Bryan Mercer, a pharmacist with over 30 years' experience. "If people need a mobility aid they'll buy one no matter what time of year it is. But a fun accessory like a cup holder that's useful, but not necessarily something you have to have, makes a great holiday gift."
The Gift Ideas page is divided into three sections—Gifts Under $25, Gifts Under $50 and Gifts Over $75.
The Gifts Under $25 section includes a lot of walker bags and mobility cup holders, but also some more unique products such as the See 4 Safety Mobility Light which attaches to any size walker and automatically switches itself on and off for the user based on motion.
The Gifts Under $50 section includes a lot of walker trays for carrying around books, meals or anything else the user might want to carry. But it also includes a fishing pole holder that can be attached to one's mobility aid, and a folding cane that transforms into a seat when the user wishes to take a break.
The Gifts Over $75 section includes many mobility aids. "Even if your loved one already has a mobility aid, they might appreciate an upgrade," suggests Mercer. "Rollators are growing in popularity across the US. They don't provide quite as much stability as the traditional walkers, but they allow users to get around a lot quicker. But whatever you decide to get for your loved ones this holiday season, we wish you all very happy holidays."
About JustWalkers.com
Just Walkers provides premium walking aids throughout the United States for people of all ages looking for the best mobility products at the lowest price. They understand the importance of choosing the perfect mobility device to fit your needs. With this in mind, they offer only the best products, parts, and accessories including detailed information about each product and numerous user reviews to help you with your decision. They are proud to serve those who seek information and assistance in determining which walking aid works best for them. With a wide assortment of walking aids at affordable prices, JustWalkers.com is determined to make your shopping experience worthwhile.
# # #