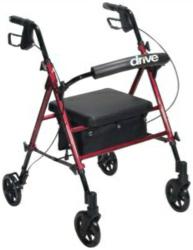 The guide covers everything from important but well-known tips such as avoiding icy pathways to often forgotten tips such as wearing sunscreen
Fulton, Md. (PRWEB) January 08, 2013
Though winter can be a fun and joyous time, it brings with it a certain set of dangers—extreme cold, snow, and icy paths. These can be particularly troublesome for the elderly, especially those who rely on a mobility aid such as a cane or rollator to get around. That's why JustWalkers.com has released a new tip sheet on Safely Using Your Mobility Aid in the Winter.
The guide covers everything from important but well-known tips such as avoiding icy pathways to often forgotten tips such as wearing sunscreen. "People don't worry about sunburns when it's cold," said JustWalkers.com's Bryan Mercer, a licensed pharmacist for over 30 years. "But snow is great reflector. The white surface will shine sunlight right at you and can cause sunburns."
The tip sheet also covers products that can help mobility aid users get through the winter season. For example, attaching an ice grip to the bottom of one's cane can increase traction and lower the risk of falls. Or if one finds their rollator or walker handles are getting cold, they can pull a warm fleece cover over the handles.
Power outages are another major winter concern, often caused by heavy snow storms. Limited light makes getting around even trickier for those with limited mobility. "One of the more unique products we carry is the See 4 Safety Mobility Light," said Mercer. "It has a motion sensor which lets it know when to switch on or off. That way once it's installed, you don't have to mess with any switches or worry about leaving it on and draining the battery."
About JustWalkers.com
Just Walkers provides premium walking aids throughout the United States for people of all ages looking for the best mobility products at the lowest price. They understand the importance of choosing the perfect mobility device to fit your needs. With this in mind, they offer only the best products, parts, and accessories including detailed information about each product and numerous user reviews to help you with your decision. They are proud to serve those who seek information and assistance in determining which walking aid works best for them. With a wide assortment of walking aids at affordable prices, JustWalkers.com is determined to make your shopping experience worthwhile.