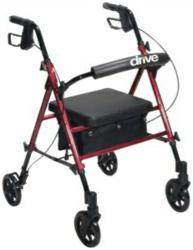 The more user reviews we get, the easier it is for our customers to choose the right product
Ashton, MD (PRWEB) September 04, 2012
Online videos are one of the fastest growing ad mediums, with many companies lowering their TV budgets to spend more on web ads. Numerous studies have shown that pages with embedded videos out-perform and out-sell those without. One company taking advantage of this trend is JustWalkers.com.
"People want to know exactly what they're getting before it comes in the mail," says Just Walker's Bryan Mercer, a licensed pharmacist for over 30 years. "Since they're ordering online, the best way to show them is through video—'Hey, this is what the product looks like in action. Here are people your age using it.'"
JustWalkers.com is divided into eight main categories—Rolling Walkers (also known as rollators), Walkers, Crutches, Wheelchairs, Canes, Heavy Duty (bariatric), Accessories, and Parts. "We decided to produce videos for our most popular products first," said Bryan, "specifically four wheel rollators, traditional walkers and forearm crutches. Our strategy is to optimize the categories we're already successful in, then take what we learn and apply it to the rest."
In addition to online videos, the company is focusing on getting more user reviews through a unique Review Sweepstakes that offers $100 American Express gift card to one lucky product reviewer. According to Bryan, "We've found that user reviews are one of the biggest factors in what customers choose to buy. They're not interested in what we, the seller, think they should buy. They want to know what their friends think. The more user reviews we get, the easier it is for our customers to choose the right product. We want to give them the best experience possible so they'll keep coming back."
What's next for JustWalkers.com? "More videos. We just finished a huge round of them, but there are still a lot of products left. Plus, we keep adding new ones," says Bryan. "We also plan to launch a series of How To videos, such as How To Choose a Walker Tray and How To Choose Between a Three or Four Wheel Rollator."
About JustWalkers.com
Just Walkers provides premium walking aids throughout the United States for people of all ages looking for the best mobility products at the lowest price. They understand the importance of choosing the perfect mobility device to fit your needs. With this in mind, they offer only the best products, parts, and accessories including detailed information about each product and numerous user reviews to help you with your decision. They are proud to serve those who seek information and assistance in determining which walking aid works best for them. With a wide assortment of walking aids at affordable prices, JustWalkers.com is determined to make your shopping experience worthwhile.