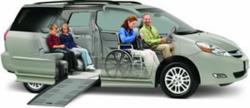 A large selection of new and used mobility vans, minivan conversions, and all the equipment needed to outfit a vehicle - wheelchair ramps, scooter lifts, electronic driving aids, makes it possible for us to help our clients maintain their active lifestyle
Wayne, MI (Vocus/PRWEB) February 17, 2011
Finding the right mobility solution is just another challenge a disabled person has to overcome. Since 1978, Advantage Mobility Outfitters has helped their customers in Michigan, Ohio and Indiana do just that. Using top of the line equipment from manufacturers like Braun, VMI, Bruno, and more, a qualified team of technicians can take any vehicle and fully customize it to fit the individual driving needs of the client. To better serve their client base, Advantage Mobility Outfitters recently re-designed their Wayne, Michigan facilities to also include a showroom - where customized vans and a wide range of mobility equipment can be seen and tried out.
"To design the right mobility solution, we like to get to know each one of our customers and fully understand their particular driving needs. The new showroom allows them to actually experience everything we have to offer; at the same time, it gives our mobility consultants and technicians the opportunity to note each client's individual needs, and custom fit the driving experience, ...so everyone can get around," said Jeff Stys, manager of Advantage Mobility Outfitters.
"A large selection of new and used mobility vans, custom conversion packages, and all the equipment needed to outfit a vehicle - wheelchair ramps, scooter lift, electronic driving aids, Automotive Turning Seating, makes it possible for us to help our clients maintain their active lifestyle; while mobility solutions can often be complicated and expensive, here, we strive every day to make them less so," Jeff continued.
Customers seem to agree. Michigan residents have trusted Advantage Mobility Outfitters to outfit their vehicles for more than 30 years. A Braun customer satisfaction survey has ranked them in the top 3% for mobility dealer across the country.
"This is my second vehicle I have outfitted by Advantage Mobility - a lowered floor minivan. I have to say, it is hard to find someone more dedicated to the needs of their customers. They get it right, because they care," said John Oren, a long time customer.
As a member of the National Mobility Equipment Dealers Association, Advantage Mobility Outfitters is a QAP certified business with 100% compliance with all standards. The technicians are factory trained and certified, with extensive experience in the mobility industry. In fact, if you ever rode the train at the Detroit Zoo, you have already encountered their craftsmanship, as they were chosen to make the zoo trains barrier free and wheelchair accessible.
The experienced and courteous staff, an overall commitment to excellence, and now, the new showroom, make Advantage Mobility Outfitters the top choice for mobility solutions in Detroit Metro Area, Michigan and neighboring states.
To find more about handicapped accessible vehicles and mobility equipment offered by Advantage Mobility Solutions, please visit our website at http://www.AdvantageMobility.net.
Since 1979, Advantage Mobility Outfitters has been committed to developing, installing and delivering the mobility vehicles and solutions that fit our customers' individual needs, budget and lifestyle. As a member of the National Mobility Equipment Dealers Association, a top 3% Braun dealer and an affiliate of Special Tree Rehabilitation, we maintain the highest standards of manufacturing and customer care.
# # #