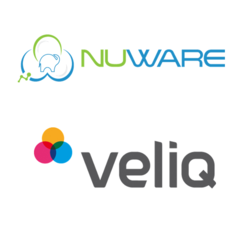 With this strategic partnership NuWare has built a comprehensive end-to-end mobility offering - Rohit Shyam
SANTA CLARA, CA (PRWEB) February 28, 2013
NuWare Technology Corp., a leading provider of Mobility, Big Data Analytics, and Cloud Infrastructure Management solutions to Life Sciences, Capital Markets, and Retail industries has forged a strategic alliance with VeliQ, a global cloud based mPaaS (mobility platform as a service) firm.
Using VeliQ's award winning mPaaS solution and NuWare's delivery excellence and 24x7 Network Operations Center, clients can experience a unified solution for MCM, MAM, MDM, and MEAP with follow-the-sun support.
"This strategic alliance with two world-class companies will offer customers a unified mPaaS solution with expanded capabilities. NuWare has terrific relationships with their customers and using Veliq's mPaaS solution will only enhance that relationship," said Steve Crummey, VeliQ's Executive Vice President.
"We are delighted to work with VeliQ on delivering mPaaS solutions to our global clients." said Rohit Shyam, Chief Strategy & Marketing Officer of NuWare. "With this strategic partnership NuWare has built a comprehensive end-to-end mobility offering."
To learn more about NuWare's Mobility Solutions, click here.
About NuWare Technology Corp.
NuWare is a leader in Cloud based Solutions, Infrastructure Management, Mobility and Social & Big Data Analytics. Our Innovation accelerates the competitiveness of our clients. NuWare develops solutions and provides professional services for Capital Markets, CPG, Retail, and Life Sciences industry verticals. Our solutions are used by Sales & Marketing, Operations, IT, and Supply Chain professionals for gaining deep insights from their data silos, rapid mobilization of both legacy and SaaS applications, remote infrastructure management, and social analytics. Our technology and services are designed to meet the needs of today's leading organizations. Several organizations in Life Sciences, Capital Markets, and CPG/Retail use our solutions.
NuWare partners with leading and innovative companies such as QlikView, Talend, MongoDB, CouchDB, VeliQ, Cadis, MarkIT, Salesforce, Workday, Hortonworks, Greenplum, Oracle, Amazon AWS, Riak, Cassandra, Actian, Fonemine, Membase, MapR, Tableau, HBase, Datastax, Redis, and Valgenesis.
NuWare has offices in Santa Clara, Houston, Chicago, Iselin, Bangalore, and Macau. For more information about NuWare, visit its website at http://www.nuware.com
About VeliQ
VeliQ is an international company with headquarters in Rotterdam and a US office in Boston. VeliQ's mPaaS solution offers cloud-based self-service management for mobile device management, mobile content management, mobile application management and mobile enterprise application management all-in-one platform.
CONTACT:
VeliQ US
Philippe Winthrop
617-273-8280
pwinthrop(at)veliq(dot)com
NuWare Technology Corp.
Samantha Adlard
650.539.4001
mediarelations(at)nuware(dot)com
# # #